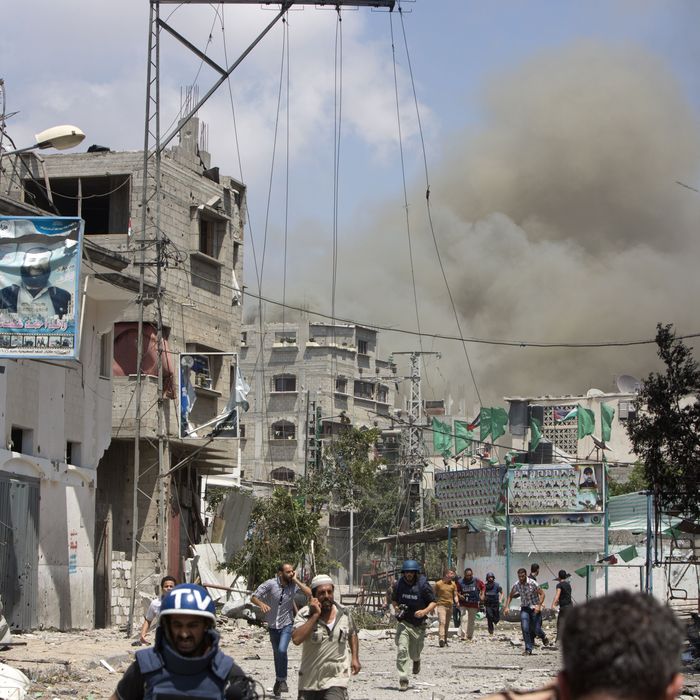 On Sunday, Israel expanded its ground assault in Gaza, increasing air and tank fire on Hamas militants in the neighborhood of Shejaiya. At least 80 Palestinians were reportedly killed in the fighting, which forced 35,000 other people to flee their homes, according to the Gaza health ministry. Thirteen Israelis were also killed during the battle, including two soldiers who died when Palestinian militants emerged from tunnels dug under the Gaza border and fired a grenade at military jeeps. It was the deadliest day of the conflict since Israel began shelling Gaza on July 8.
The Israeli military spokesman Lt. Col. Peter Lerner said the operation in Shejaiya was supposed to be focused on "targeting Hamas's terrorist infrastructure, including significant rocket-launching capabilities and an extensive tunnel network designed to aid infiltration into Israel for attacks on soldiers and civilians." Meanwhile, Palestinian civilians were trapped in the crossfire.
Anguished cries of "Did you see Ahmed?" "Did you see my wife?" echoed through the courtyard of Gaza's Shifa hospital, where panicked residents of Shejaia gathered in family groups. Inside, bodies and wounded lay on blood-stained floors.

Elderly men there said the Israeli attack was the fiercest they had seen since the 1967 Middle East war, when Israel captured Gaza.
From the AP:
A man walking in the street said his son was trapped in the family house and that he needed someone to help rescue him. He then got into an ambulance to reach his house, but tank fire hit nearby and the ambulance quickly turned around to get away.
And from the Times:
At Shifa Hospital, a girl who looked about 9 was brought into the emergency room and laid on a gurney, blood soaking the shoulder of her shirt. Motionless and barely alive, she stared at the ceiling, her mouth open. There was no relative with her to give her name. The medical staff stood quietly around her. Every now and then, they checked her vital signs, until it was time. They covered her with a white sheet, and she was gone. A few moments later, a new patient lay on the gurney.

At one point in the dying girl's final moments, a half-dozen journalists with television cameras crowded around the gurney. In the next bed, a small girl smudged with blood cried, "Mama! Mama!"
In the afternoon, Israel agreed to a two-hour humanitarian ceasefire so that the International Red Cross could evacuate the dead and injured from the area. "It has been a tough day of combat, but it won't deter us," said Israeli Finance Minister Yair Lapid. "The operation is necessary and, if needed, we will broaden it." The overall Palestinian death toll from the last two weeks is now said to be 425, with another 3,000 wounded.
This post has been updated throughout.