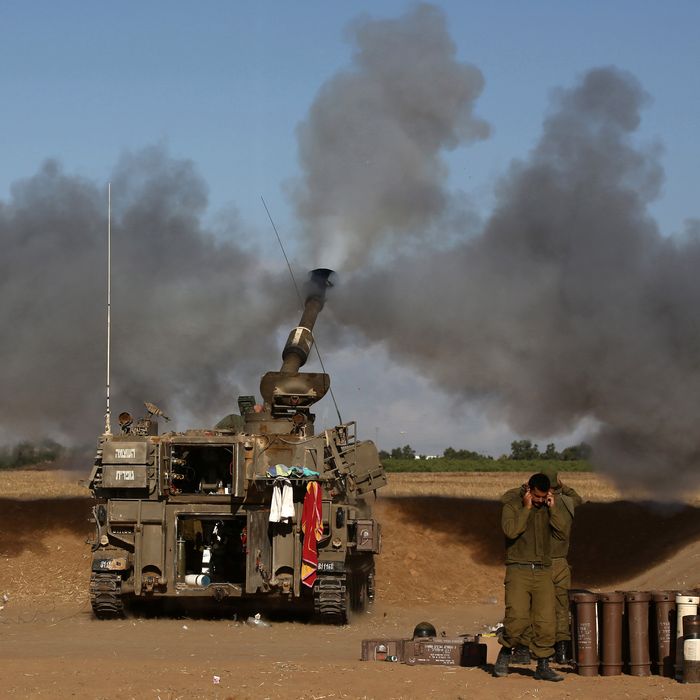 Photo: Menahem Kahana/AFP/Getty Images
As a mostly successful five-hour humanitarian truce was lifted in Israel, hope for an extended cease-fire persists. The Egypt-brokered deal that fell apart earlier this week is still alive and "gaining momentum," the Associated Press reports, with Egypt's foreign minister calling it "the only way to protect the people and to avoid additional bloodshed," and to end the "intolerable humanitarian situation" in Gaza, which has killed more than 200 Palestinians and one Israeli so far.
Quoting a single anonymous Israeli official, the BBC reports that a deal to end the war has been reached and will take effect Friday at 6 a.m. local time, although no confirmation has been given from either side.

Even a glimmer of hope for a negotiated peace beats indications yesterday that Israel could invade the Gaza Strip with ground troops. "To the best of my understanding, it is not possible to ensure summer vacation, a normal summer for our kids, without a ground operation in Gaza," said Foreign Minister Avigdor Lieberman.
During the break in fighting today, Israel said militants in Gaza continued to attempt mortar attacks, although there was no military response against Hamas, the New York Times reports.
The Israeli military also said it foiled a major attack from Gaza before the cease-fire began when its forces identified about 13 militants emerging from an underground tunnel into Israeli territory near a kibbutz and attacked them from the air.
The momentary truce, however, did allow residents of Gaza to collect supplies and make trips to banks, most of which had been closed during the nearly two weeks of intense clashes.
Israel is fighting a war on another front as well after deciding, for some insane reason, that it'd be a good idea to host a Twitter Q&A with the country's ambassador to the U.S., Ron Dermer.
Like the NYPD and Robin Thicke before him, the ambassador and his #AskDermer hashtag were promptly taken over. In this case, social-media protesters focused on the death of four Palestinian children on the beach in Gaza yesterday, with any actual questions drowned in a sea of anti-Israel sentiment: