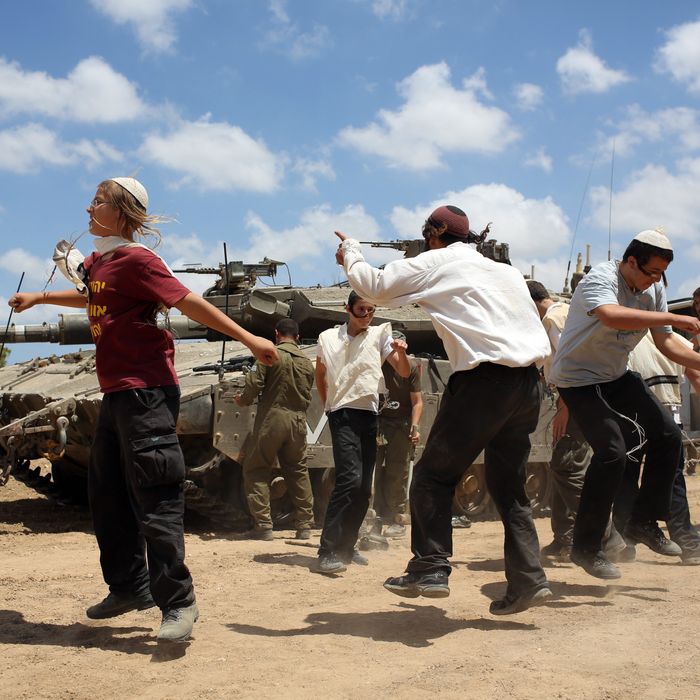 Young Orthodox Jews dance to support the soldiers at an army deployment area near Israel's border with the Gaza Strip, on July 17, 2014.
Photo: Menahem Kahana/AFP/Getty Images
This morning's reports that a cease-fire could occur by Friday morning are now looking much less likely.
"The IDF's objective as defined by the Israeli government is to establish a reality in which Israeli residents can live in safety and security without continues indiscriminate terror, while striking a significant blow to Hamas' terror infrastructure," the Israel Defense Forces said in a statement late Thursday, confirming it had begun a ground operation in Gaza.
"The prime minister and defense minister have instructed the IDF to begin a ground operation tonight in order to hit the terror tunnels from Gaza into Israel," Benjamin Netanyahu's office confirmed. "In light of Hamas' continuous criminal aggression, and the dangerous infiltration into Israeli territory, Israel is obligated to act in defense of its citizens." Casualties have already been reported.
Journalists have also been ordered to evacuate:
Following the five-hour humanitarian truce earlier in the day, an Israeli air strike "killed three Palestinian children feeding pigeons on their roof," NBC reports. Palestinian militants returned rocket fire, but no injuries have been reported.
Yesterday, Israeli Foreign Minister Avigdor Lieberman said, "To the best of my understanding, it is not possible to ensure summer vacation, a normal summer for our kids, without a ground operation in Gaza." He added, "We don't need to rule Gaza, or build settlements in Gaza. We need to ensure that all Hamas terrorists run away, are imprisoned, or die."
The New York Times reports that "intense discussions" about a cease-fire are still happening. "The effort to achieve an end of the violence is ongoing," said an Israeli official. "We're not there yet."
This post has been updated throughout.