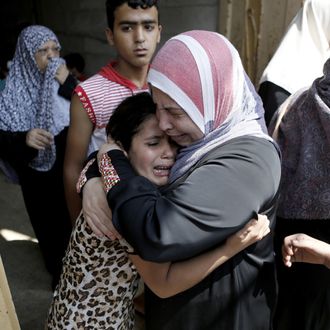 Photo: Mohammed Abed/AFP/Getty Images
A special session of the United Nations Human Rights Council in Geneva began today with Navi Pillay, the High Commissioner for Human Rights, calling for an investigation of possible war crimes by both Israel and Hamas in the Gaza Strip. After a vote by the 47-member council, she got her wish. Twenty-nine nations voted to launch an investigation, 17 abstained, and one, the United States, voted against the measure.
In her comments, Pillay said there is "a strong possibility that international humanitarian law has been violated in a manner that could amount to war crimes" on both sides of the conflict. She specifically criticized Israel's bombing of a hospital earlier this week and Hamas's targeting of Israeli civilians. After Pillay's comments, Israel's U.N. ambassador in Geneva absolved his nation of any blame, and pointed the finger instead at the council and Pillay herself: "In the protection of the human rights of Israelis, this council and you, madam, have failed dismally," Eviatar Manor said.