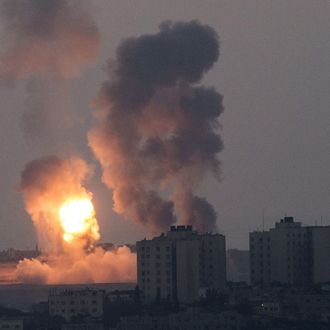 Photo: Jack Guez/AFP Photo/Getty Images
On the second day of what it's calling Operation Protective Edge, Israel bombed hundreds of Hamas targets in Gaza on Wednesday in the region's most intense fighting since the eight-day battle in November 2012. The 450 Hamas sites targeted by Israel include weapons caches, rocket-launching sites, and the homes of Hamas leaders. As many as 41 people have been killed in the attacks with hundreds more injured badly enough to require hospitalization.
Prime Minister Benjamin Netanyahu says the bombings will continue "until the rocket firing on our cities stops, and the quiet returns," following weeks of tension related to the kidnapping and murder of teenagers in the region.
Hamas, for its part, has lobbed some 160 rockets at Israel, most of which either fell in open areas or were intercepted midair by Israel's Iron Dome antimissile defense system. Even with no reported casualties coming from the Hamas rockets, Israel is particularly fearful of the latest round of attacks thanks to an advanced Hamas arsenal that's allowed rockets to reach further into Israel than ever before.
On Tuesday night, a Hamas rocket landed in the Israeli city Hadera, about 70 miles away from Gaza. The bomb didn't hurt anyone but it raised new concerns about Hamas's ability to attack cities deeper into the country. The Israeli military says the rocket was a Syrian-made M302, which has a 125-mile range.
As bombs fell on both Gaza and Israel earlier today, the Israeli army began calling up the first of an authorized 40,000 reservists. The Jerusalem Post says Netanyahu has begun "preparations for a ground offensive," which include stationing infantry, artillery, and tanks along the Gaza border. It would be the Israeli military's first ground operation in Gaza since 2009.