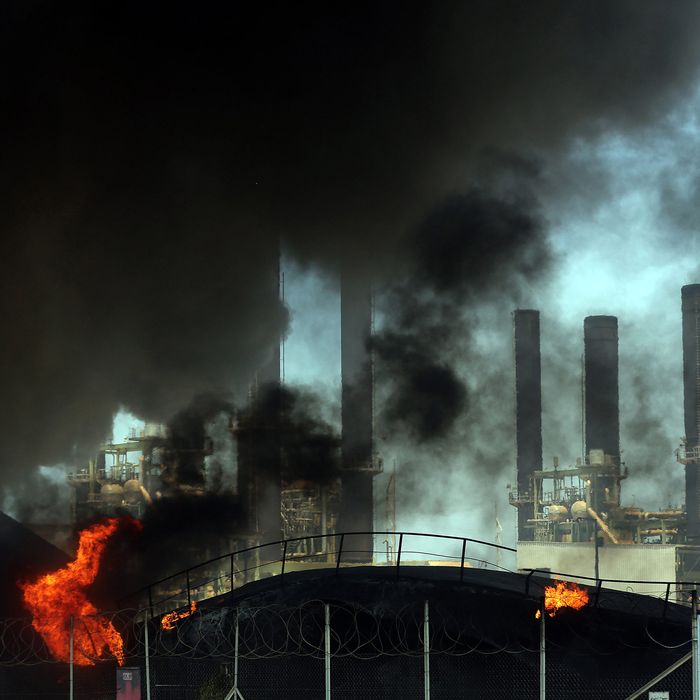 Photo: Ali Jadallah/Anadolu Agency/Getty Images
On Monday, Prime Minister Benjamin Netanyahu told Israel (and everyone else) to prepare for a "prolonged campaign" in Gaza. On Tuesday, the Israeli military intensified its assault, hitting at least 70 targets in one of the heaviest bombardments of the three-week-old war. A missile destroyed the home of Gaza's Hamas leader, Ismail Haniyeh, but caused no casualties (Haniyeh, like much of Hamas's Gaza-based leadership, is in hiding). Another strike took out the fuel tanks at Gaza's sole power plant, forcing it to shut down.
The plant's general manager, Jamal Dersawi, told NBC News that the loss of the structure is a "major disaster" for Gaza's 1.8 million residents, whose electricity has already been limited by damage to power lines from Israel. According to Reuters, the plant provides two thirds of the energy in Gaza, including the area's water sanitation facilities and pumps. (Residents are now being told to be careful with their water consumption.) The structure could be out of operation for up to a year.
A number of rockets were fired from Gaza toward Israel, and at least one was intercepted by the country's Iron Dome defense system. No damage or casualties were reported.
Meanwhile, the West Bank–based Palestine Liberation Organization called for a 24-hour humanitarian ceasefire. Senior PLO official Yasser Abed Rabbo said that Hamas and Islamic Jihad (another, smaller militant group in Gaza) had signed off on the offer, but Sami Abu Zuhri, a Hamas spokesman in Gaza, contradicted that claim. "The remarks of Mr. Abed Rabbo are not true and have nothing to do with the positions of the factions at the moment," he said. Either way, a break in the violence doesn't seem to be forthcoming.
As many as 100 Palestinians are said to have been killed on Tuesday, putting the mostly civilian death toll at around 1,100. Fifty-three Israeli soldiers and three civilians have been killed since the fighting began in early July.