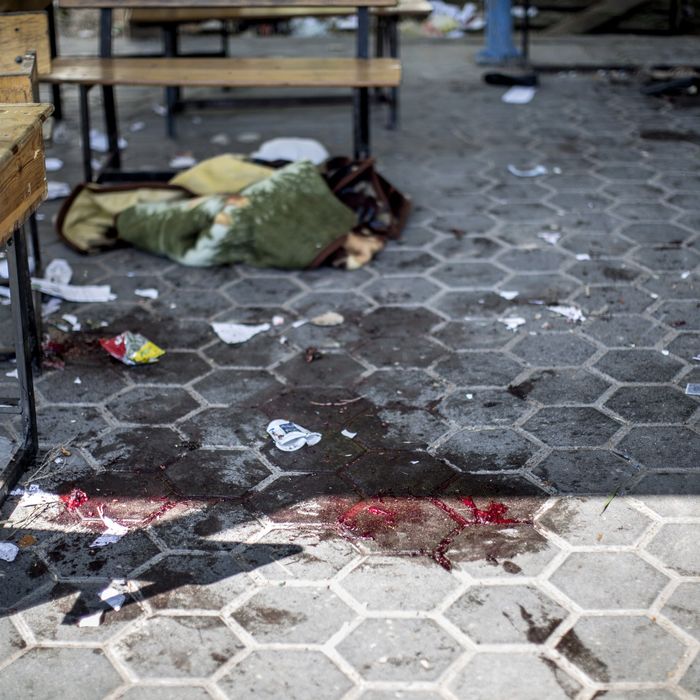 A trail of blood is seen in the courtyard of a UN School in the northern Beit Hanun district of the Gaza Strip on July 24, 2014, after it was hit by an Israeli tank shell.
Photo: Marco Longari/AFP/Getty images
On the 17th day of war in the Gaza Strip, an Israeli tank shelled a school being used as a U.N. shelter, according to reports from the region. At least 15 are dead and up to 200 injured. The U.N. Relief and Works Agency "said it has twice found rockets stored by Gaza militants at two of its schools since the start of the conflict," The Wall Street Journal reports. 
CBS has more from the IDF, which says it's investigating the new batch of civilian casualties:
The Israeli military said it was reviewing the incident, saying that rockets launched by Hamas had landed in the Beit Hanoun area during fighting with its forces, and that those rockets may be responsible for the deaths.

The military said Hamas was "using civilian infrastructure and international symbols as human shields" in the area.
U.N. Secretary General Ban Ki-moon expressed "outrage and regret" at schools being used to store weapons, becoming military targets.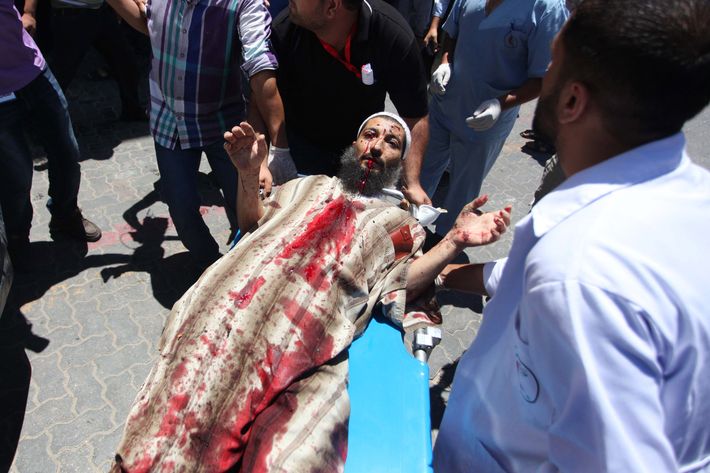 More than 50 Palestinians have been killed today, bringing the overall death toll well over 700. Israel has lost at least 32 soldiers and three civilians. Nearly 150,000 residents of Gaza are seeking shelter at relief centers, the Journal reports, although those are not safe either:
One of the shelters, a school in Dier el Balah, was hit by Israeli fire on Wednesday, wounding five people, said Christopher Gunness, an agency spokesman. Another U.N. shelter, in Maghazi, was hit Monday, wounding a child, he said.
And from USA Today:
An Israeli airstrike hit the Jebaliya refugee camp Thursday, killing six members of the same family and an 18-month-old boy, according to Gaza officials. At least 20 others were injured in the strike.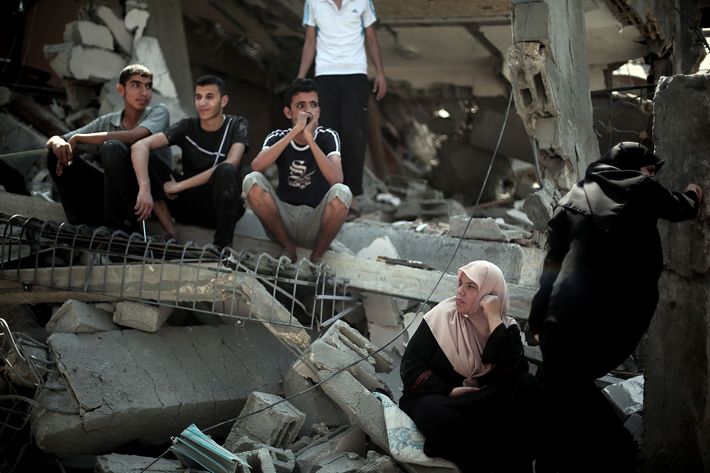 Israel says more than 2,000 rockets have been fired from Gaza since the fighting started on July 8. Prime Minister Netanyahu said today, "Hamas and the Islamic Jihad's use of civilians is extremely cynical. It's a travesty."