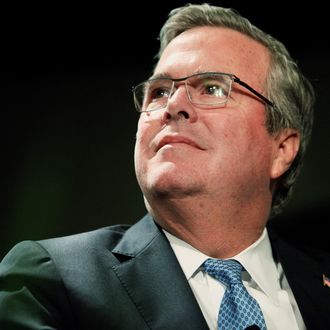 Photo: Andy Jacobsohn/Getty Images
If Jeb Bush is planning to run for president in 2016, he's chosen an odd way to spend the last year before campaign season begins. According to Bloomberg, the former Florida governor is the chairman and part owner of an investment firm that's raising private equity funds for oil and gas companies. Bush's role at Britton Hill Holdings LLC, which opened shop in May 2013, was only revealed last month in SEC filings.
If Bush does indeed decide to run for president, he can expect this to be used against him. Mitt Romney's career in private equity was brought up in both the Republican primary and the general election. Should Bush run, likely opponent Rick Perry could recycle the "vulture capitalist" label he pinned on Romney. (And if anyone's apt to recycle a line, it's Perry.)
Another potential pitfall of Bush's private equity dealings is the industries he's most heavily working with. Bloomberg says the firm's "first investments have been tied to the exploitation of shale oil and gas." That one might not matter in the primary, but if Bush represents the GOP in the general election it's not hard to imagine environmental groups tracking down a family who can blame their exploding house on Bush. All of which has some wondering whether his involvement in private equity means Bush is going to remain on the sidelines in 2016. We can think of a handful of Republicans who hope the answer to that question is yes.