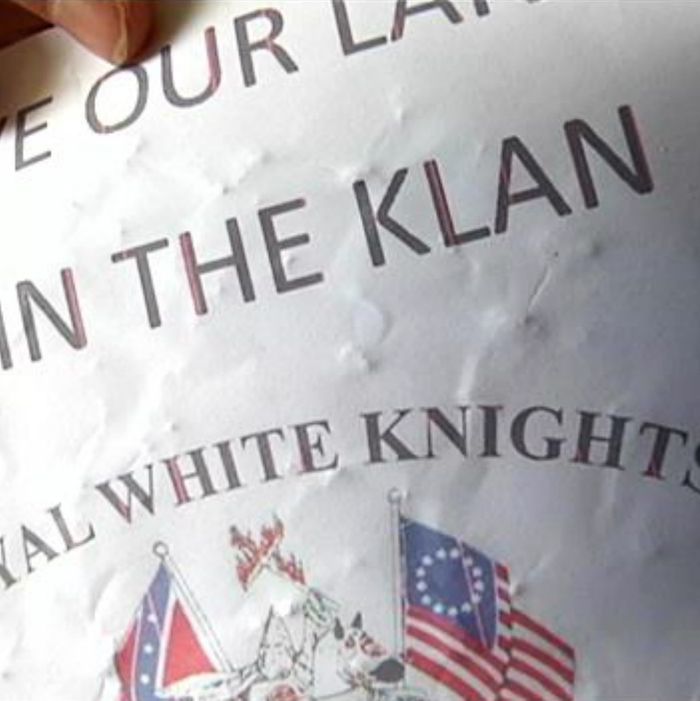 Smarties, peppermints, and cross burnings? Given the flyers found in one South Carolina neighborhood, the KKK thinks sweets and racism go together like white people and other white people. With the message "Save our land, join the Klan," the flyers, which were stuffed in bags with the candy, were dropped on yards and driveways in Seneca, South Carolina, over the weekend.
Included on the flyer was a phone number to call for more info about the Klan. Fox Carolina called the number.
A voicemail message picked up when someone dials the "Klan Hotline" listed on the paper. It starts with, "Be a man join the Klan! Illegal immigration is destroying America," discusses immigration concerns and ends with, "always remember if it ain't white, it ain't right. White power."
The local station also spoke to Robert Jones, "the Imperial Klaliff of the sect, the Loyal White Knights," who said the racism hotline is getting 20,000 calls a day. Recruitment efforts like this, he added, are nothing new. So lackluster sweets, like Smarties and peppermints, may explain the Klan's dwindling numbers. A few mini-Snickers would probably go a long way.