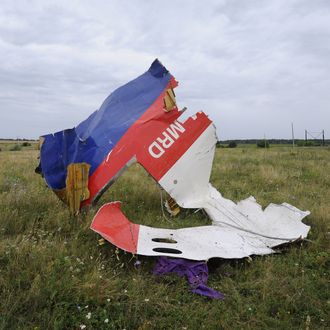 Photo: DOMINIQUE FAGET/AFP/Getty Images
International investigators' attempts to pore through the wreckage of Malaysia Airlines Flight 17 in eastern Ukraine were thwarted yet again today because of land mines placed on the route, allegedly by pro-Russian separatists. It marked the fourth consecutive day that investigators from the Netherlands and Australia, along with the Organization for Security and Co-operation in Europe, deemed the crash site too dangerous to visit. Earlier in the week, fighting between the separatists and Ukrainian troops kept them away.
In announcing new sanctions against Russia at the White House yesterday, President Obama did not mention MH17, but he did say the goal of the sanctions were to "ratchet up the pressure on Russia including the cronies and companies supporting Russia's illegal activities in the Ukraine." Last week the president said Russian president Vladimir Putin is responsible for allowing investigators access to the site.
Limited access to the crash site didn't stop one Ukrainian official from announcing a cause of the crash on Monday. Based on examination of the flight's black box recorders, the official said shrapnel hit the plane and caused "massive explosive decompression." The Dutch Safety Board, which is leading the investigation, was hesistant to confirm that conclusion. "We want to analyze [and] combine information of several sources before we bring out anything, so we can give a coherent view on the whole investigation," the group's spokeswoman Sara Vernooij told The Independent. "Bringing out fragmented pieces of information is not on behalf of the investigation."
While the investigators spend another day in Donetsk, waiting for safe passage to the crash site, at least two people have safely made their way there. The parents of a woman onboard MH17 traveled through the war zone last weekend and saw the wreckage. How did the couple safely complete a journey that investigators say is too dangerous to make?  "Divine guidance."