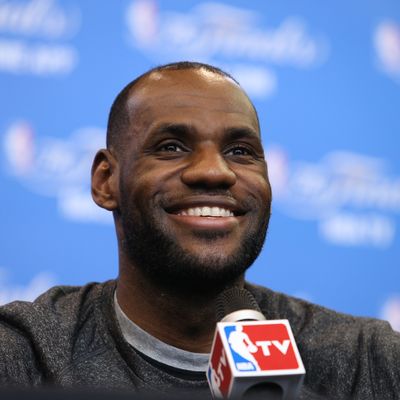 LeBron James.
Photo: Joe Murphy/Getty Images
Four years after LeBron James broke Cleveland's hearts by signing with the Miami Heat, and two weeks after he opted out of his contract to become a free agent, he announced today that he'll be signing with the Cleveland Cavaliers. He made the announcement in a piece on Sports Illustrated's website, saying, "I always believed that I'd return to Cleveland and finish my career there. I just didn't know when."
Speculation had been building that James could be returning to play in his home state of Ohio, and internet sleuths had been looking for clues that he'd be returning to the franchise that drafted him in 2003. The Cavs had cleared cap space to sign LeBron by working out a three-way trade that landed Jarrett Jack on the Nets, and they might not be done dealing, with rumors swirling that they'll pursue a trade for Minnesota's Kevin Love, though such a deal could mean parting with Andrew Wiggins, this year's first overall pick.
In his essay (an as-told-to piece with Lee Jenkins), James writes about why he left for Miami, and why he's decided to return home:
When I left Cleveland, I was on a mission. I was seeking championships, and we won two. But Miami already knew that feeling. Our city hasn't had that feeling in a long, long, long time. My goal is still to win as many titles as possible, no question. But what's most important for me is bringing one trophy back to Northeast Ohio.

I always believed that I'd return to Cleveland and finish my career there. I just didn't know when. After the season, free agency wasn't even a thought. But I have two boys and my wife, Savannah, is pregnant with a girl. I started thinking about what it would be like to raise my family in my hometown. I looked at other teams, but I wasn't going to leave Miami for anywhere except Cleveland. The more time passed, the more it felt right. This is what makes me happy.
Aware of the criticism he took after his nationally broadcast capital-D Decision in 2010, James says that "I'm not having a press conference or a party. After this, it's time to get to work." (Regarding the way he left for Miami, he wrote, "If I had to do it all over again, I'd obviously do things differently, but I'd still have left.")
He also feels a sense of civic duty, writing that "My presence can make a difference in Miami, but I think it can mean more where I'm from. I want kids in Northeast Ohio, like the hundreds of Akron third-graders I sponsor through my foundation, to realize that there's no better place to grow up. Maybe some of them will come home after college and start a family or open a business. That would make me smile."
Folks in the Cleveland airport are apparently going nuts over the news:
Cavs owner Dan Gilbert and his young son are, of course, thrilled:
Meanwhile, others are just impressed that word didn't leak ahead of time:
This time around, many are praising LeBron for his free-agency decision — both for his choice of teams, and for the thoughtfulness of his essay:
Not everyone's happy with LeBron now that he's going back to the Cavs, though:
Among the losers here: ESPN, which broadcast his announcement in 2010:
But just to be safe, ESPN's Chris Broussard confirmed the news anyway, on the off chance LeBron's sources were wrong about LeBron going to Cleveland:
And everyone's got jokes:
This post has been updated throughout.