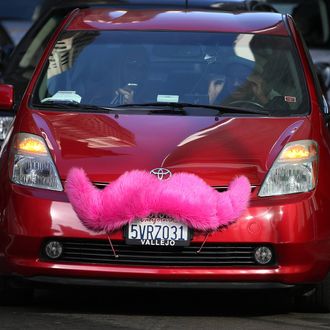 Photo: Justin Sullivan/Getty Images
The launch of whimsical ride-share start-up Lyft in Brooklyn and Queens this week has been dampened by the Taxi and Limousine Commission, which calls it an "unauthorized service" for a handful of reasons that do not explicitly include its challenge to cab supremacy. Lyft currently allows drivers in more than 60 U.S. cities to pick up fares via smartphone app, but the TLC says the pink-mustachioed Uber and taxi competitor "has not complied with … safety requirements and other licensing criteria to verify the integrity and qualifications of the drivers or vehicles used in their service, and Lyft does not hold a license to dispatch cars to pick up passengers." The fight could be just what Lyft needs to break through.
Along with the TLC threats to impound cars and issue fines up to $2,000 if the company goes forward with its Friday debut, the state Department of Financial Services has issued a cease and desist accusing Lyft of "acting in bad faith." But as Uber has shown in city after city, a good old regulatory throwdown can be great for publicity, while beefing up your reputation for "disruption."
Of course, Lyft is being more diplomatic in public. "We'll continue to work with all stakeholders to create a path forward," the company said in a statement. "Our focus remains on the community, who will be the ultimate beneficiaries."
"Where we differ with the TLC is that we do not believe its licensing and base station rules apply to the Lyft ridesharing model," explained Erin Simpson, director of communications. "It's important to clarify that our differences of opinion are not about safety standards, and that's because we put safety first. In new markets when we begin conversation with local regulators, we always find a way to ensure that communities have Lyft. We're certainly different from the status quo, but that is our strength."
Meanwhile, the Bushwick launch party — featuring "chilly treats from People's Pops, bumping beats from Golden Pony and a special performance by none other than Q-Tip!" — still seems to be a go. Bring your own pink mustache.