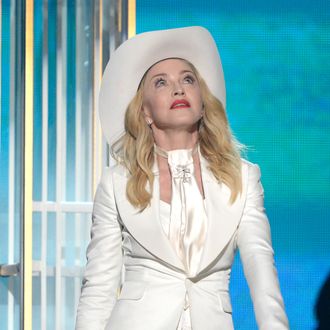 Photo: Kevork Djansezian/2014 Getty Images
Believe it or not, pop stars get special treatment everywhere. A doctor's note got Madonna out of her initial jury summons earlier this year — she must have been really sick — but she was required to at least show her face at a Manhattan courthouse yesterday. And show her face she did! Briefly. But not so briefly that she couldn't get an Instagram post out of it, like a real American who just loves serving her country.
The "Material Girl" arrived 30 minutes late and was hustled into the courthouse at 60 Centre St. by her many handlers and then escorted back out an hour and a half later. While other prospective jurors sat around and were questioned, Madonna didn't even make it into the jury room, spending time in a clerk's office before court officials sprung her.

"I'm proud to do my job," the pop icon said as she left the courthouse.
She's a role model, really. "The greater good here is that her appearance really goes to show that everyone gets called," said a spokesperson for the court system. "The intent here was not to create a distraction to other jurors or the business of the court." He added, "She got credit for her service and we're delighted she came."
On her Instagram, Madonna wrote, "Serving my country! Reporting to jury selection!" And because she'd probably heard of plebeians complaining about this sort of thing, she added the hashtag #itshotinhere. Just like us, but with certain exceptions to make everyday things much easier.