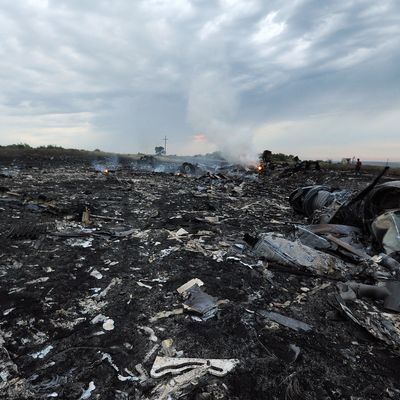 Photo: DOMINIQUE FAGET/AFP/Getty Images
The conflict in Ukraine took a tragic and frightening turn on Thursday when Malaysia Airlines Flight 17 crashed near the Russian border in Ukraine. The international finger-pointing started almost immediately, and everyone who became an armchair aviation expert during the disappearance of Flight 370 was quick to weigh in. Before we head into the second day of the crisis — which is sure to bring more accusations and unhinged conspiracy theories — here's a guide to what we actually know.
What do we know about the plane?
Malaysia Airlines Flight 17 was a Boeing 777-200ER, the same model as Flight 370. Malaysia Airlines tweeted that the plane "has been in service for 17 years. It had a clean maintenance record." It took off at 12:15 p.m on Thursday from Amsterdam and was scheduled to land in Kuala Lumpur at 6:10 a.m. on Friday.
Ukrainian authorities notified Malaysia Airlines that they had lost contact with the plane at about 4:21 p.m. local time, when it was about 50 miles from the Ukraine-Russia border, according to the Associated Press. A journalist located the crash site near Hrabove, a village in Ukraine held by pro-Russian separatists about 25 miles from the border.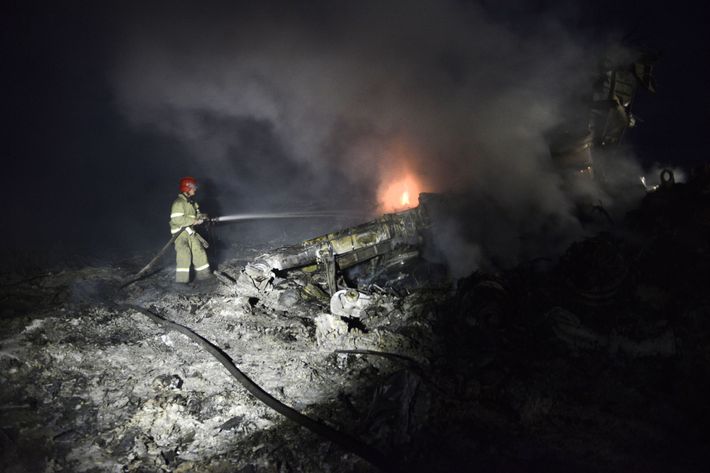 John Wendle, a freelance reporter for ABC News, said there were "bodies scattered everywhere" at the crash site. "There's blood splattered everywhere, and pieces of remains," Wendle said. "It's a pretty grim sight … This is terrible." This New York Times report describes the horrific scene in detail. Many photos and videos of the debris have been posted on social media, and Russian TV ran graphic footage of the wreckage. The video below, which was shot by a local, shows a massive plume of smoke and pieces of the plane falling from the sky:
Questions arose on Thursday about why Flight 17 was recklessly flying through a war zone. While many airlines have avoided the route recently, about 100 planes were still flying through Ukraine's airspace every day. "The usual flight route was earlier declared safe by the International Civil Aviation Organisation," Malaysia Airlines said in a statement. "International Air Transportation Association has stated that the airspace the aircraft was traversing was not subject to restrictions." The jet was cruising at 33,000 feet, which is far beyond the range of the weapons the rebels were thought to possess. 
Who was onboard?
It was initially reported that 280 passengers and 15 crew members were on board, but on Thursday night Malaysia Airlines said three infants were also on the plane, bringing the death toll to 298. The airline released a breakdown of the passengers' nationalities. There were 154 from the Netherlands, 43 from Malaysia (including the crew and two infants), 27 from Australia, 12 from Indonesia (including one infant), 9 from the United Kingdom, 4 from Germany, 4 from Belgium, 3 from the Philippines, and 1 from Canada. The nationalities of 41 victims have not been verified. Malaysia Airlines tweeted:
Adding to the tragedy, it appears that some of the world's leading AIDS researchers lost their lives. The Australian reported that 108 of of the passengers were researchers and their families, who were en route to the 20th International AIDS Conference in Melbourne. There was no source listed for that report, but UNAIDS executive director Michel Sidibé said "many" of his colleagues were on the flight:
Officials say Glenn Thomas, a British spokesman for the World Health Organization, and Joep Lange, the former president of the International AIDS Society, were among the victims. "Joep was a giant in this field; a researcher who really 'got it' in terms of human rights, equity and justice. He was as much activist as researcher — and that is rare. Incredibly sad," Mitchell Warren, executive director of AVAC: Global Advocacy for HIV Prevention, told NBC News.
During a Friday morning news briefing, President Obama said that Quinn Lucas Schansman, a man with dual Dutch-United States citizenship, was on the flight. According to a friend, Schansman was born in New York City but spent most of his life in the Netherlands.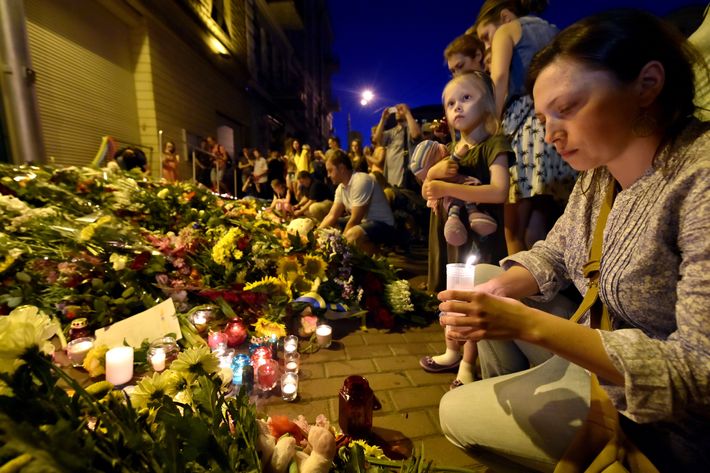 How was the plane shot down?
U.S. intelligence agencies say the plane was hit by a ground-to-air missile, and according to the New York Times, surveillance satellite data suggests it was a Russian SA series missile. The most likely explanation is that whoever shot down the plane thought they were aiming at a military aircraft.
An adviser to Ukraine's Interior Ministry claimed in a Facebook post that the plane was shot down by separatists using a Russian-made Buk ground-to-air missile system. Associated Press journalists saw rebels in eastern Ukraine with a similar-looking weapon earlier on Thursday. Buk systems could have been provided by the Russians or abandoned by Ukrainian government forces retreating from the area.
"This is a sophisticated crew-served weapon system," John Pike, director of GlobalSecurity.org, told the L.A. Times. "It's not like a guy can learn how to shoot one of these in an afternoon. They have entire schools dedicated to teaching people how to operate them."
Who fired the missile?
It's unclear, but the accusations were flying in the hours after the crash. Russian President Vladimir Putin suggested Ukraine was ultimately responsible, since, "This tragedy wouldn't have happened if there had been peace on this territory, if the military actions hadn't been restarted in southeast Ukraine."
Ukraine described the crash as a terrorist attack carried out by Russian separatists. On Thursday evening, its intelligence agency released edited recordings of intercepted phone calls between rebels and Russian military intelligence officers in which they sound shocked that they shot down a civilian jet. "We have just shot down a plane," says a man believed to be Igor Bezler, a separatist commander. In another call, a man at the scene is asked if he sees any weapons or military equipment. "Absolutely nothing. Civilian items, medical equipment, towels, toilet paper." When asked if he sees any documents, he says, "Yes, of one Indonesian student."
The rebels are denying that they caused the crash. In an interview with the Times, Andrei Purgin, deputy prime minister of the Donetsk People's Republic, admitted that insurgents have shot down Ukrainian planes recently, but he said, "We don't have the technical ability to hit a plane at that height."
As for the United States, The Wall Street Journal reports that various agencies are "divided over whether the missile was launched by the Russian military or by pro-Russia separatist rebels." The White House went ahead and criticized Russia anyway, saying in a statement, "This incident occurred in the context of a crisis in Ukraine that is fueled by Russian support for the separatists, including through arms, material and training."
While addressing a Friday emergency meeting of the United Nations Security Council, United States U.N. ambassador Samantha Power confirmed that Flight 17 "was likely downed by a surface-to-air missile, an SA-11, operated from a separatist-held location in eastern Ukraine." She added that the United States could not "rule out technical assistance by Russian personnel" in operating the weapon.
What happens now?
Leaders from many nations, including Ukraine and Malaysia, are calling for an international investigation of the crash site. Before an unrelated speech in Delaware, President Obama said the United States is trying to determine if Americans were on the flight, and "will offer any assistance we can to help determine what happened and why."
Obama's words were somewhat more forceful on Friday. Calling the crash an "outrage of unspeakable proportions," he vowed to "make sure the truth is out." "We don't have time for propaganda. We don't have time for games," he continued. And while he did not directly blame Russia or Putin for what happened to Flight 17, Obama did say that Russian's actions on behalf of the separatists in Ukraine is what allowed the disaster to occur. "We know that [the separatists] are heavily armed and they are trained," he said. "That is not an accident. That is happening because of Russian support."
It may already be too late to conduct a credible probe. Rebels have reportedly taken possession of the plane's black boxes, and Ukrainian officials say they're concerned that they'll be sent to Russia and tampered with. However, on Friday, rebel leader Aleksandr Borodai that that his group intended to give the black boxes to the Organization for Security and Cooperation in Europe. Meanwhile, the New York Times reported that, "Kostyantyn Batozsky, an adviser to the Donetsk regional governor, said in a telephone news conference that the aircraft voice and data recording devices had been recovered by Ukrainian emergency services workers whom the rebels had granted access to the crash site." Either way, it appears the site has already been thoroughly contaminated, as videos show separatist fighters, journalists, rescue workers, and civilians going through the wreckage.
As for the larger geopolitical consequences, it's anyone's guess. Obviously, the facts aren't in yet, but feel free to speculate about whether the crash will deescalate the Ukraine crisis or start World War III.