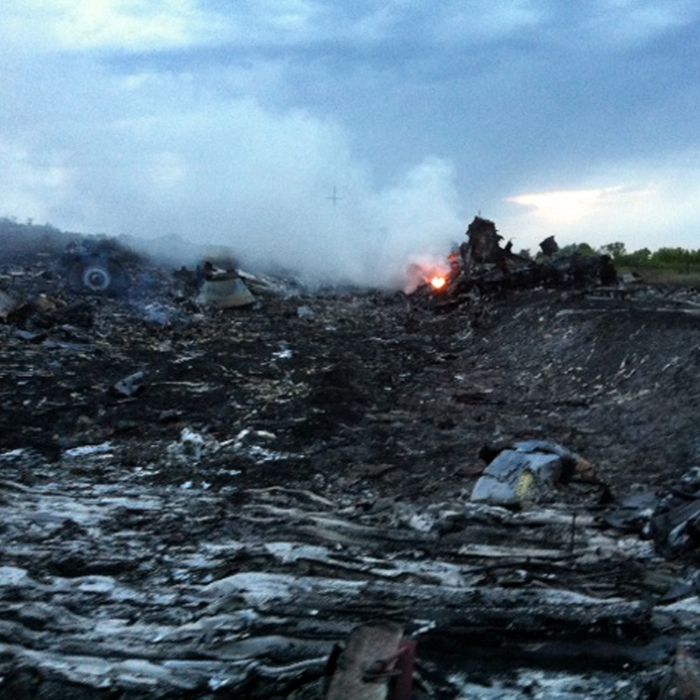 Photo: Dominique Faget/AFP/Getty Images
Malaysia Airlines Flight 17 from Amsterdam to Kuala Lumpur crashed near the Russian border in Ukraine today, with an adviser to Ukraine's Interior Minister claiming it was shot down by a ground-to-air missile, the Associated Press reports. The Boeing 777 was carrying 280 passengers and 15 crew members.
"Malaysia Airlines has lost contact of MH17 from Amsterdam. The last known position was over Ukrainian airspace. More details to follow," the airline said on Twitter.
More from the AP:
Anton Gerashenko says on his Facebook page the plane was flying at an altitude of 10,000 meters (33,000 feet) when it was hit Thursday by a missile fired from a Buk launcher.

A similar launcher was seen by Associated Press journalists near the eastern Ukrainian town of Snizhne earlier Thursday.
That Facebook post can be seen here, and includes a link to a YouTube video that claims to show the wreckage:
And, allegedly, the moment of impact:
Journalist Casey Clark is also tweeting images from the crash scene, including some graphic photos of apparent victims:
Russian television has more graphic footage:
The passenger jet "came down near the city of Donetsk, stronghold of pro-Russian rebels," in Torez, Reuters reports, about 25 miles from the Russian border.
Flight Aware's tracking shows the jet's path abruptly cut off:
While pro-Russia rebels are reportedly blaming the Ukrainian military, Ukraine's president tried to rule out his side, claiming, "Armed Forces of Ukraine did not take action against any airborne targets." President Obama has spoken with Russian President Vladimir Putin in a call organized to discuss new U.S. sanctions, but the White House has not confirmed reports the plane was shot down.
If it was, said John McCain, "This is obviously a game changer and has horrific consequences."
Update, 4:30 p.m.: "U.S. intelligence confirms surface-to-air missile fired at Malaysian jet but is divided over origin," The Wall Street Journal reports.
Through his VK.com account, Russia's version of Facebook, the self-proclaimed defense minister of the Donetsk People's Republic, Igor Girkin — who goes by the nom de guerre Igor Strelkov — boasted about shooting down a plane.

"We did warn you — do not fly in our sky," he wrote.
The prime minister of Malaysia used Twitter to call for an investigation:
Ukraine's minister of defense claimed earlier this week that a military transport plane, shot down at an altitude beyond the reach of an anti-aircraft missile, was like "downed by another, more powerful missile that probably was launched from the territory of the Russian Federation." At least ten other planes, most flying lower than a passenger jet, have been shot down by rebels over the course of the conflict.
For Malaysia Airlines, this marks the second major international tragedy this year, with MH370 still missing after more than 100 days. The last tweet on the company's timeline before today's crash was promptly deleted:
This post has been updated throughout.