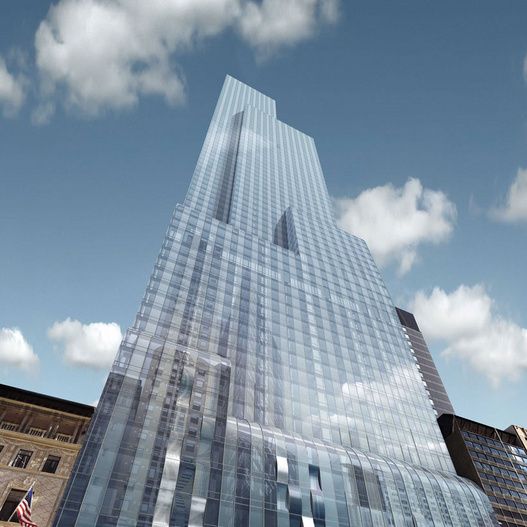 Photo: Extell Development Company
Brokerage firms released their second-quarter reports for Manhattan's real-estate market today, and on paper, it's been another nutty three months. Inventory continues to be a problem (though it's getting better), with the number of listings going up by 18 percent to a still-low 5,659 properties, reports Douglas Elliman. The number of sales rose for the seventh straight quarter, and buyers continue to struggle with bidding wars: 45.9 percent of listings found takers at or above the asking price, the largest market share in the past six years. And prices are still stuck in the nosebleed seats: Try $1.7 million for the average price, according to Halstead Property.
However, those numbers don't give a complete picture of this market's complications. "When you look at average or median numbers, it is off-putting," says Diane Ramirez, chief executive office of Halstead Property. "But then you look at it and those numbers are skewed by a $70 million sale." Despite much buzz about said Fifth Avenue penthouse selling for $70 million and a doorman-less co-op fetching $25.58 million in Soho, properties in the $5 to $10 million range are "staying [on the market] a little longer," says Frederick Peters, president of Warburg Realty. "As the price range mounts, the interest becomes thinner. People are more cautious." It's a similar story for many places in the $10 million and up range, he says.
You can blame those infernally expensive new condos. Leonard Steinberg, president of Urban Compass, says the high-end new development condo market is "extremely strong," with signed contracts at high-profile projects like 432 Park Avenue and 150 Charles Street sealed with multi-million-dollar, sometimes record-breaking, price tags. (Those numbers aren't reflected in market reports, though, which track closed sales.) They're luring buyers who may consider already built condos and co-ops, but are put off either by dated aesthetics, the prospect of jumping through co-op board hoops, or a lengthy renovation that will cost them time and money.
It remains to be seen, though, what happens to all the luxury condos hitting the market at the same time in Midtown. "[The area] is oversubscribed," Steinberg says, with approximately 750 units headed their way. Then again, many foreign buyers are flocking to the area; at One57, more than half of closed sales so far — and there aren't many, just about 25 — went to LLCs, a handful listed as originating overseas.
Steinberg says foreign buyers do make up a chunk of the market, but not all new condos have them signing deals. Downtown's 150 Charles Street, for example, sold mostly to local residents and some American out-of-towners; international buyers snapped up less than 10 percent of the building's units.
Locals are the ones competing for most of the apartments, especially in the lower end of the market, where "properties asking under $1.6 million [are] seeing intense competition," says Peters. "There's still more demand than supply," he says, and given how expensive rents have become, for many it makes sense for to buy. But in general, "having just been through 2009, 2010, it's impossible to pretend that [slowdown] can't happen, [so] that experience inserts caution into the landscape," says Peters.
Appraiser Jonathan Miller, who compiled Elliman's report, says there has been a distinct "throttling down. There's a lot of activity, but it's not increasing at the rate it was over the last year." And, he adds, "there's a lot of overpriced property on the market." So, sellers, take note: Don't be greedy.