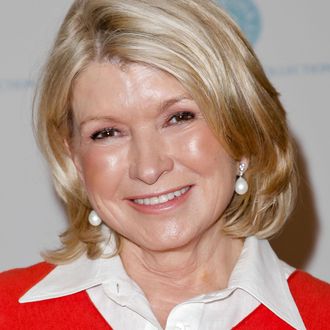 Photo: Tibrina Hobson/FilmMagic
Move over, cake and candles: One big present stole the spotlight at Martha Stewart's birthday last year. The domestic diva received a drone with a high-tech camera on her big day, and hasn't been able to part with it since.
Earlier today, Time ran an essay in which Stewart raves about her favorite toy:
In just a few minutes I was hooked. In near silence, the drone rose, hovered, and dove, silently and surreptitiously photographing us and the landscape around us. The photos and video were stunning. By assuming unusual vantage points, the drone allowed me to "see" so much more of my surroundings than usual. The view I was "seeing" on my iPad with the help of the drone would have otherwise been impossible without the use of a private plane, helicopter, or balloon. With any of those vehicles, I would have needed a telephoto lens, and all of them would have made an unacceptable commotion on the beach. What's more, I would not have been in the photos!
The selfie-taking potential alone seems reason enough to buy one. 
After a not-so-brief interlude about the pinnacles of drone-less human achievement (why?), Stewart briefly questioned the ethical implications of drone use before linking out to two of her favorite models. Her own Parrot AR Drone 2.0 retails for about $300 on Amazon, while her "farm worker's" DJI Phantom starts at $499.
No doubt Stewart's impassioned endorsement will send some amateur photographers running for their wallets. But the real question remains: Any chance drones will improve her food photography?