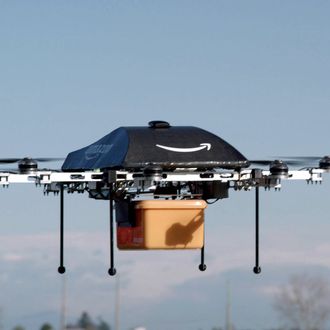 Like all nerds these days, 34-year-old Wilkins Mendoza and 23-year-old Remy Castro are into drones. And while that alone is not a crime, it turns out that flying the little unmanned aircraft too close to an NYPD helicopter is. NBC New York reports that an Aviation Unit pilot was forced to "veer off course to avoid being struck" by a drone that Mendoza and Castro had circling around the Spuyten Duyvil Bridge at around 12:15 a.m. last night.
Of course, the chopper then followed the drone until it landed at Fairview Avenue and Fort George Hill in Inwood. There, Mendoza and Castro were arrested and charged with reckless endangerment. During the pair's Tuesday arraignment in Manhattan Criminal Court, a prosecutor said that the police had seen the drone flying as high as 2,000 feet in the air, though a defense lawyer claimed that it can't go above 300 feet.
"It's just a toy," Castro said of the DGI Phantom 2, which, the New York Post reports, he bought for $500 to $700 just two weeks ago. (Mendoza did the same thing soon after, and his purchase was also on the scene when the two were taken into custody.) "The copter came to us." Sadly, regardless of who provoked whom, the men probably should have known that the NYPD, which has confiscated both drones, would win the aerial showdown.