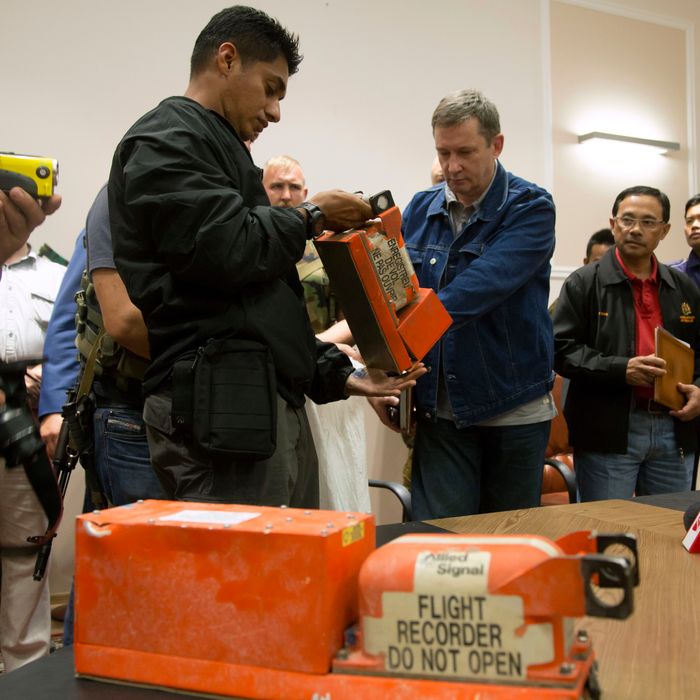 After a weekend of back-and-forth over who actually found the black boxes from Malaysia Airlines Flight 17, they've finally surfaced for real. In the wee hours of the morning on Tuesday (Ukrainian time), the rogue pro-Russian rebels of the Donetsk People's Republic passed the recordings to Malaysian officials. Ukraine, Russia, and Dutch investigators were all apparently left out in the cold.
According to journalists present at the makeshift press conference, the DPR's paperwork came complete with specially designed pechats — stamps — to signify the legitimacy of its government. Alexander Borodai, the so-called prime minister of the region, reportedly told Malaysian officials that Ukrainians shot down the plane. They, in turn, told him they "would like to convey our sincere appreciation to His Excellency Mr. Borodai for obeying our request." A screenwriter couldn't draft a shadier scene if he tried. 
Of course, it's not like Malaysia is known for furnishing the unvarnished truth. In the early days of the MH370 disappearance in March, Malaysian officials had their own bit of backtracking and story-changing, and that investigation still hasn't been closed. But we'll keep our fingers crossed that in this case, their only motive is uncovering the truth.