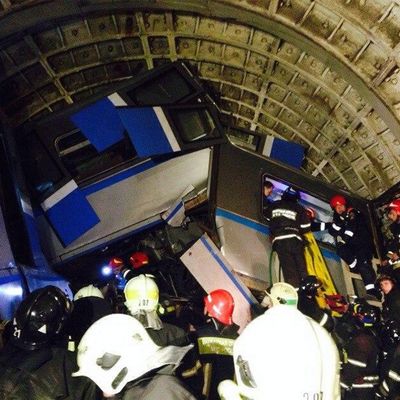 Photo: Valovil Varya/Corbis
A rush-hour derailment of several subway cars killed 19 people and injured at least 150 more in Moscow on Tuesday morning. The exact cause of the accident is still unclear. The New York Times reports that "authorities blamed a power failure, a botched emergency stop or a mechanical flaw with a wheel chassis," while the AP says that a "power surge triggered an alarm, which caused the train to stop abruptly." Terrorism, however, has been ruled out.
The crash happened about 275 feet underground, between the Slaviansky Boulevard and Park Pobedy stations. Survivors said that the train stopped suddenly, throwing passengers into piles on one side of the cars. "A panic ensued," one person told a Russian television station. "The train literally was torn apart; the wagons crumpled and a lot of people were injured and some wound up squeezed" by debris. Emergency crews reportedly reached the scene within six minutes of the accident.
Dozens of commuters were taken out of the Park Pobedy station on stretchers and transported to waiting ambulances and helicopters, while the rest had to make their way through the tunnel by foot. Of course, a few people documented the journey via social media: