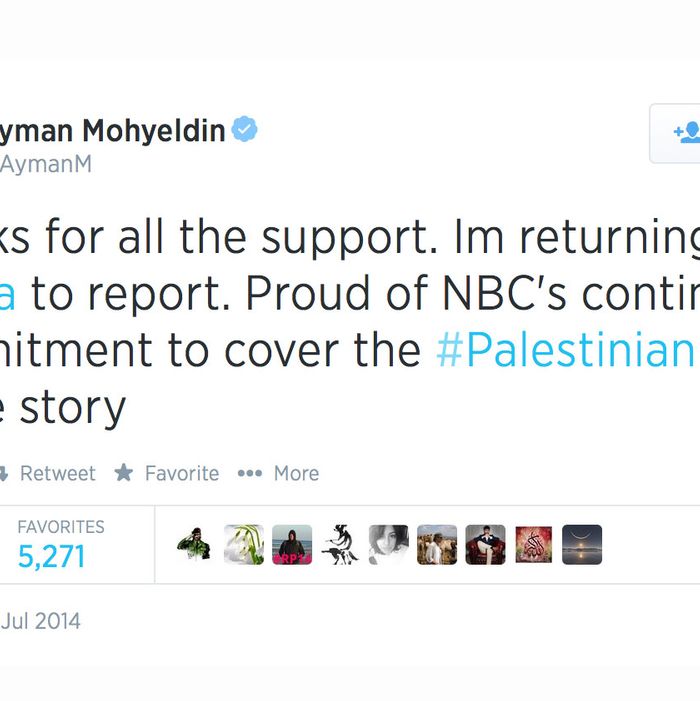 Photo: Ayman Mohyeldin/Twitter
NBC correspondent Ayman Mohyeldin had a hell of a week. After witnessing — and reporting on — the killing of four soccer-playing Palestinian children on a Gaza beach, Mohyeldin was suddenly, inexplicably removed from his war zone assignment. While the network cited only vague "security concerns," others saw censorship — and said as much, loudly.
NBC heard, and on Friday evening, quietly (and smoothly) put Mohyeldin back to work.
"On Friday, NBC declined to give any explanation — official or not — for the sudden decision to send Mr. Mohyeldin back into Gaza," the New York Times reported. "In a statement, NBC said only that its 'deployments were constantly reassessed' in the region." The network also praised Mohyeldin's "extraordinary reporting throughout the escalation of the conflict in Gaza."
Mohyeldin, an Egyptian-American and the only Arab-American NBC correspondent over there, was more direct. "Proud of NBC's continued commitment to cover the #Palestinian side of the story," he tweeted.
"Ultimately, the public backlash played a role in the network's decision to reinstate him, according to interviews with NBC News employees," CNN's Brian Stelter reported. While anonymous network sources tried to spin the PR bungle as paranoia over performance — "Everyone's looking for a conspiracy and missing the real story, which is a news division making mistakes through ratings nervousness," said one employee — Mohyeldin's behavior hinted at a more political disagreement.
Behind the scenes, the network tried to convince Mohyeldin to sign off on a statement that, he thought, whitewashed the situation. Later on Friday, NBC management directly apologized to him and reassigned him to Gaza.
Upon his return, however, Mohyeldin has not reined in his attempts to humanize the conflict and its civilian toll. His first stop was the hospital:
Monday morning, with the media tide turning more generally against Israel, Mohyeldin again called attention to the lopsided death toll (nearly 500 Palestinians have been killed, including almost 100 children, while Israel has lost 18 soldiers and two civilians):
And the network appears to be supporting his work: