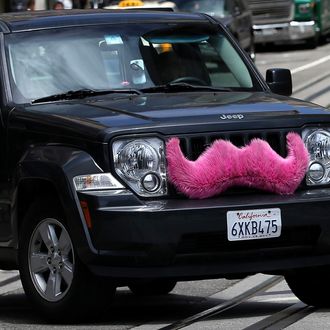 Photo: Justin Sullivan/Getty Images/2014 Getty Images
Regulators are working hard to block the New York City launch of ride-share app Lyft, which was scheduled for this evening. In the last couple of days, the Taxi and Limousine Commission has threatened to impound Lyft's cars based on the claim that the start-up is offering an "unauthorized service," and the Department of Financial Services has issued a cease and desist order against the company for "acting in bad faith." On Friday, New York Attorney General Eric Schneiderman filed a lawsuit saying that Lyft — whose vehicles have been on the roads of Buffalo and Rochester since April — "actually operates as a traditional for-hire livery service using mobile technology, not a peer-to-peer transportation platform as claimed," putting it "in open defiance" of the state's licensing and insurance laws.
In response to Schnedierman's attempt to disrupt Lyft's disruption, spokeswoman Erin Simpson told the Daily News, "We are in a legal process with local regulators today and will proceed accordingly. We always seek to work collaboratively with leaders in the interests of public safety and the community, as we've done successfully in cities and states across the country, and hope to find a path forward for ridesharing in New York." But, on Friday afternoon, Schneiderman announced that he had obtained a restraining order temporarily prohibiting Lyft from operating in New York City. So, it looks like the company's plan to begin giving out rides in Brooklyn and Queens is on hold until at least Monday, when everyone will see each other in court.
This post has been updated throughout.