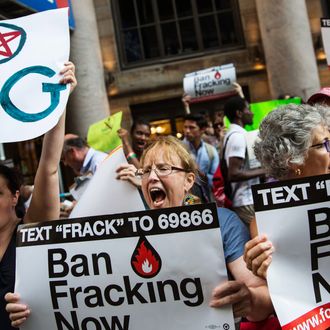 Photo: Andrew Burton/Getty Images
While New York's Health and Environmental Conservation Departments continue their seemingly endless studies of the potential ill effects of fracking, the state's highest court ruled that towns can ban the practice within their borders. There has been a statewide moratorium on fracking, which involves firing liquids into rocks beneath the Earth's surface in order to fracture them and extract natural gas, for around six years. But New York residents worried that the state will eventually choose economic development over clean water have been taking matters into their own hands by passing anti-fracking laws and moratoria in at least 170 communities.
The upstate towns of Dryden and Middlefield implemented such amendments in 2011. They were subsequently sued by Norse Energy, which had acquired drilling rights in Dryden and Cooperstown Holstein, a landowner that had leased a Middlefield farm to a drilling company. On Monday, in a 5–2 decision, the New York State Court of Appeals upheld a lower court ruling in favor of the towns.
Brad Gill of New York's Independent Oil and Gas Association acknowledged that this development "puts a chilling effect on investing in New York's oil and gas industry," which is already suffering (the New York Times reports that Norse has filed for Chapter 7 bankruptcy). And fracking opponents hope that the ruling will expand the fracklash outside of New York: "I hope our victory serves as an inspiration to people in Pennsylvania, Ohio, Texas, Colorado, New Mexico, Florida, North Carolina, California and elsewhere who are also trying to do what's right for their own communities," said Dryden town supervisor Mary Ann Sumne.
Meanwhile, Governor Cuomo has yet to weigh in on the debate. Twenty percent of one of the world's largest natural gas fields, the Marcellus Shale, is located under New York State, and public opinion on whether to frack it is evenly divided. Of course, Cuomo is up for reelection soon, which is why it's no surprise that, as the Times notes, "there appears to be no end in sight" for his administration's own examination of fracking.