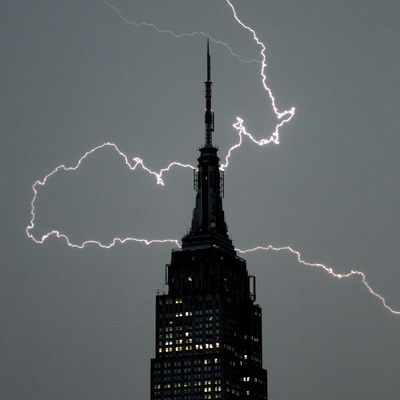 Photo: TIMOTHY A. CLARY/AFP/Getty Images
On Wednesday evening, New Yorkers got a preview of the storm threatening to ruin everyone's Fourth of July plans. Heavy rains soaked commuters, caused flooding in Brooklyn, and may have contributed to the collapse of a decorative wall underneath the Brooklyn Bridge. Just before 8 p.m., a 25-foot-wide section of facade crumbled in the underpass at Prospect and Washington Streets. Jerome Dilligard, 52, told the Daily News his family was in the underpass taking shelter from the storm when his wife noticed water seeping from between the stones. As Dilligard ran to get their car, the wall fell, knocking his 4-month-old baby, Kiarra Jackson, to the ground, and burying the rest of his family in rubble.
Dilligard says a stranger picked up the baby, and his wife Teresa dug out their 8-year-old daughter Kaylah, along with his 30-year-old daughter LaToya Jackson and her son 10-year-old son, Khmani.  "It's a miracle they got out with their lives," Dilligard said. The family was treated for minor injuries at Bellevue Hospital.
The fire department, which tweeted a photo of the scene, said there are no signs of structural damage to the bridge. "We will immediately conduct a full inspection of all the facades, and will continue to thoroughly inspect our entire bridge inventory," said a Department of Transportation spokesman.
As is often the case, in addition to being dangerous and terrifying, the storm was awfully pretty. Lightning hit One World Trade Center at sunset and lit up other parts of the skyline. Now that we're all safe and dry (for the time being), let's enjoy the view from social media: