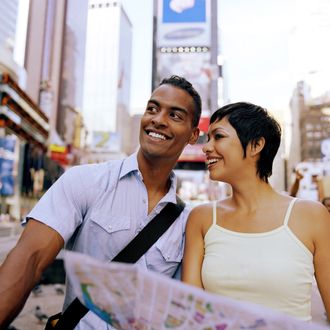 Photo: Digital Vision/Getty Images
The new head of New York City's in-house tourism marketing company, NYC & Company, is a de Blasio appointee, but he's still expected to meet the goals Michael Bloomberg set before he left office: By 2015, 44-year-old Fred Dixon is supposed to bring in 55 million annual visitors, with $70 billion in "economic impact" on the city's economy. According to what NYC & Company told the New York Times, current projections say we'll already see 55.8 million out-of-towners this year (that's 1.5 million more than in 2013), but getting them to really fork over their money while here is proving slightly more difficult.
NYC & Company estimates that each tourist dollar is worth $1.50 in the aforementioned "impact," given the likelihood that whoever they give it to will turn around and spend it somewhere in the city. Unfortunately, despite their increasing numbers, our valued visitors' spending is only "expected to rise about 7 percent to $41.3 billion" in 2014. "The agency's current estimate for tourism's economic impact this year is $61.1 billion," the Times notes. "Almost $9 billion shy of the goal for next year."
"Our city would not be as robust and vibrant as it is if it were not for the infusion of [tourist] cash," explained Dixon, who is hoping to increase the flow of money by attracting more international visitors (they stay longer and shop more) and convincing those who have been to New York before to return for visits to the exotic neighborhoods beyond Times Square, such as Williamsburg, Long Island City, Staten Island's Tompkinsville, and the Bronx's Pelham Bay. Just think of it as more opportunity to feel that sense of satisfaction you get from giving people good directions.