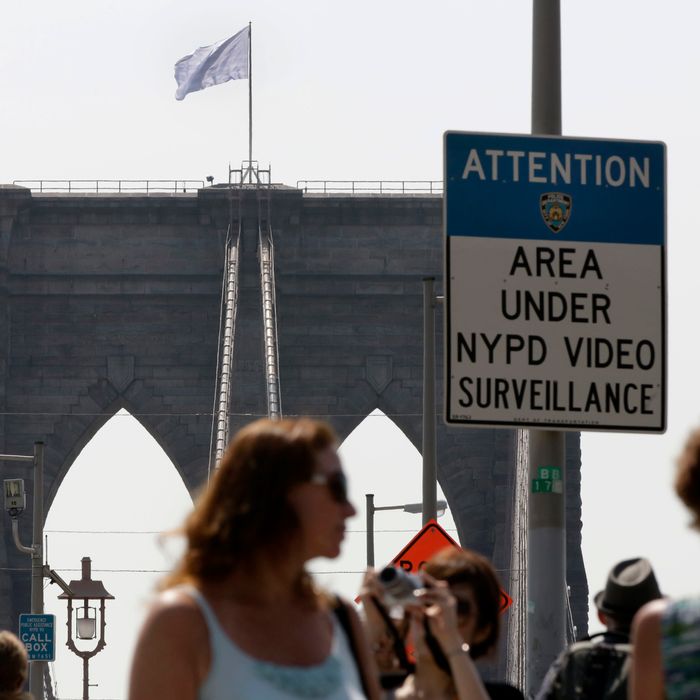 The NYPD doesn't think that the placement of two white American flags on top of the Brooklyn Bridge last night has anything to do with terrorism, but it's definitely not thrilled about yet another stunt involving a security breach at a New York landmark. "Needless to say, no matter what the motive was, it is a matter of concern," Police Commissioner Bill Bratton said at a press conference on Tuesday. "I am not particularly happy about the event." Officials said surveillance footage shows a group of about five people walking over the bridge just after 5 a.m. A short time later, the lights on each tower went out and the usual flags were replaced with 20-foot-by-11-foot American flags that had been bleached white. "This may be somebody's art project, or it may be an attempt at making some kind of statement — but at this point it's not clear what that statement is," said Deputy Commissioner John Miller.
Police didn't announce any suspects, but they said the group caught on surveillance footage is of "particular interest." Miller said they're pursuing an "insider angle," as the climbers managed to get past a locked gate, and covered the lights using zip ties and aluminum roasting pans that were just the right size. "There's some indication of some good deal of pre-operation planning, perhaps some indication that they have experience climbing in construction or in bridgework, or that they have actually been up there before looking at the dimensions," Miller said.
In previous incidents, the culprits have given themselves up by boasting about their crimes on social media, and police may luck out again. According to Gothamist, the Instagram user "Last Suspect" said the flags were bleached before the NYPD released that information, and he briefly used an image of an all-white American flag as his profile photo. In since-deleted tweets, Last Suspect said "NYPD can't stop shit," and commented "2 see last nights adventure in detail look at @mattdoscher feed" under a shot of the white flags. A photo of the underside of the Manhattan Bridge with the caption "Someone replaced the flags on the Brooklyn bridge🙇 ◻️◻️◻️hmmm…" is still up:
Both Last Suspect and Matt Doscher's Instagram accounts are filled with photos of buildings and bridges around New York, and they each have more than 10,000 followers. In an interview with SCHWICITY posted last month, Doscher said of his photography, "My biggest inspiration is simply the fun of going out exploring with friends. I love finding new locations and taking unique perspectives."
Obviously, a few jokes and an interest in urban photography doesn't necessarily mean that the two users have been trespassing on New York landmarks. As Gothamist notes, "It's entirely possible that they're coyly hinting at involvement to gain more Instagram followers." We're guessing that at the very least, they've scored a "follow" from the NYPD.