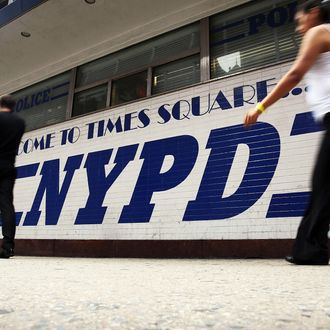 Photo: Spencer Platt/Getty Images
Earlier this week, NYPD chief Bill Bratton said that Eric Garner's death might lead him to order that all New York City cops receive new training on the use of force. A new video of the violent arrest of a man in Bed-Stuy shows that changes can't come soon enough. The footage, which was recorded on Tuesday evening, shows several officers taking 32-year-old Jahmiel Cuffee down on a sidewalk after catching him with a small amount of weed. The police say that Cuffee had provided them with his ID, but resisted when they moved to take him into custody. Whatever happened, nothing seems to justify the part where one cop walks away from the scene and then returns to stomp on Cuffee's head, even though he was already handcuffed and pinned to the ground.
"He lifted his foot with excessive force and came down like he was stepping on an ant or a roach or something at the time," said Gary Dormer, the person who taped the incident on his cell phone. On Saturday, the NYPD announced that the stomping officer, Joel Edouard, had been ordered to turn in his gun and badge while investigators look into what happened to Cuffee. In the meantime, Edouard will join the cop caught putting Garner in a chokehold on desk duty.
Here's PIX 11's report on Cuffee's arrest, which includes the video:
Also on Saturday, Cuffee joined Garner's family at a rally in Harlem, where Al Sharpton called for a federal civil-rights inquiry into the 43-year-old Staten Island father's death. "At the end of the day, what this is all about, we want justice for my son, your son, your daughter," Garner's mother, Gwen Carr, told the crowd. "I wouldn't wish this on my worst enemy." On Friday, Attorney General Eric Holder said that Justice Department officials have already "been in touch" with Garner's relatives. "We are closely monitoring the city's investigation into the incident," he added.