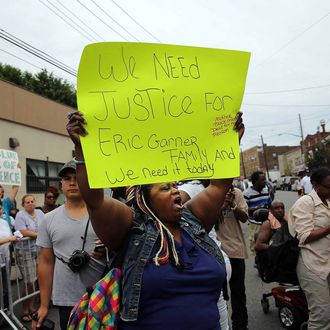 Protesters for Garner.
Photo: Spencer Platt/2014 Getty Images
The video says otherwise, but an internal NYPD report claims the arrest of Eric Garner on Staten Island went relatively smoothly, except for the cardiac-arrest part. The preliminary document, obtained by the New York Daily News, quotes Sergeant Dhanan Saminath, an officer present at the scene, saying "he perpetrator's did not appear to be in great distress." Shall we check the tape on that? Nope, definitely full of distress.
Another officer, Sergeant Kizzy Adonis, said "the perpetrator's condition did not seem serious and that he did not appear to get worse." Garner, a 43-year-old father of six, died soon after. (He "became unresponsive, though he was observed to be breathing," according to the report, and went into cardiac arrest "when he was placed on the stretcher.") Four other officers involved, including Daniel Pantaleo, who administered the illegal chokehold, were not interviewed for the report, pending a criminal investigation.
The Daily News adds that Adonis also told interviewers she "believed she heard" Garner, who was suspected of selling loose cigarettes, "state that he was having difficulty breathing." On the tape, he can be heard saying "I can't breathe" at least nine times.