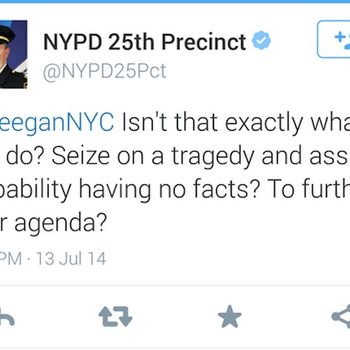 Last week, the NYPD announced that it would be beefing up its (backfire-prone) social media presence by getting all of the department's precinct chiefs to start tweeting. Twitter users and the NYPD being what they are, it only took a few days for a cop, the 25th Precinct's Captain Thomas Harnisch, to get into an online spat with a civilian. On Sunday, Harnisch (who actually joined Twitter in April) used his personal account to tweet a story about a subway death to the advocacy group Transportation Alternatives with the comment, "Let me guess, driver's fault right?"
Transportation Alternatives activist Keegan Stephan responded to Harnisch's jab by calling him out for "using this as an opportunity to criticize our attempts to save lives." Switching to his work account, Harnisch replied to Stephan with the tweet above: "Isn't that exactly what you do? Seize on a tragedy and assign culpability having no facts? To further your agenda?" Then he deleted it.
"I was so shocked," Stephan told DNAinfo. "My immediate reaction was 'Wow, precinct commanders are now trolling me.'" (Stephan also said that he and Harnisch had never communicated, online or otherwise, before the Twitter fight.) The NYPD's increasingly long-suffering social media guru, Zachary Tumin, acknowledged that Harnisch had gotten out of hand: "We are going to stumble," he said. "We are going to make mistakes." Tumin also personally called Stephan to apologize for the incident. Meanwhile, Harnisch posted this Monday evening:
You could say that this incident demonstrates that the NYPD is still working on getting the hang of Twitter — or you could say it shows that they're starting to master the medium. After all, what is Twitter for if not getting into public, slightly embarrassing battles with strangers?