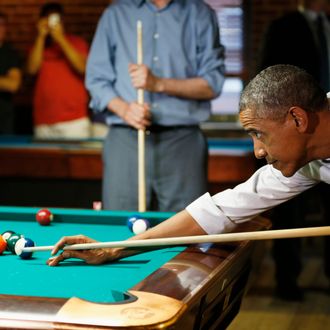 As if those photos of Obama encountering a man wearing a horse-head mask weren't enough proof that he had fun on his recent visit to Colorado, Governor John Hickenlooper just told some reporters that the president beat him at pool, twice. Speaking from the National Governors Association conference in Nashville, Hickenlooper — a former bar owner who probably does know a thing or two about pool — explained how Obama crushed it at a Denver brewery last week. 
According to The Wall Street Journal, Hickenlooper "said he was even thinking of slacking off on the theory it might not be a bad idea to let [Obama] win." But, once their pool game began, it became clear that Obama is, as Hickenlooper put it, "a shark." "Literally before my eyes he ran like four balls," said the governor. After Obama won the first round, the pair decided to play another, and the president dominated that one too. "I still had four balls on the table when he nailed the eight ball," Hickenlooper recalled. "He was making long shots with a difficult angle. I didn't know people in Hawaii played that much pool. Evidently they do." 
Obama initially accepted the $20 the two men had riding on the games, but he returned the bill to Hickenlooper as he left. ("Find a good charity," he told him.) We're sure the president briefly considered spending the cash on a small bag of legal weed, but victory is a natural high.