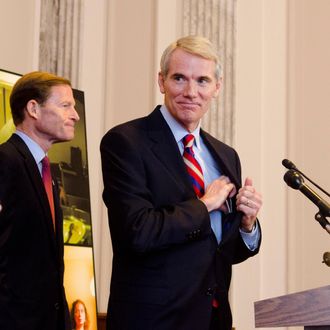 I've got a great attack line to use against Hillary here: "mainstream." No? How about "moderate"? "Reasonable"?
Photo: Kris Connor/Getty Images
Ohio Senator Rob Portman spoke with Bloomberg yesterday, showing a little leg on his potential 2016 presidential candidacy. Portman started explaining that Republicans should not be afraid to run against Hillary Clinton. One reason he offered is that Clinton might lose the Democratic nomination. That's when the talking points started to go wrong:
>
I mean, the Democratic Party is more populist and more liberal than it was when she ran last time, and yet she's more mainstream, if anything. So… it is no longer the party of Bill Clinton.
I suppose that would be a good line to use if Hillary Clinton loses the nomination — the Democrats used to be sensible when the Clintons were in charge, but now they've gone crazy.
However, the odds of that happening are really small. In the meantime, you just admitted that the candidate who is overwhelmingly likely to be heading the opposing ticket in 2016 is "mainstream." Great message!