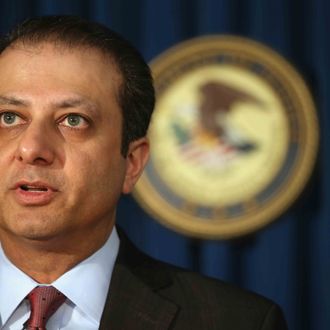 Photo: John Moore/Getty Images
In what Dealbook calls "a stunning blow to federal prosecutors in New York," Rengan Rajaratnam was found not guilty today of conspiring to commit insider trading with his brother, convicted big fish Raj Rajaratnam. The verdict is the first unfavorable one for U.S. Attorney Preet Bharara after 85 straight insider-trading convictions. And it was ugly: Four counts were dropped by prosecutors before the trial, while the Manhattan judge tossed the two most serious remaining charges in the middle of it, calling out the prosecution's arguments for failing to "make any sense."
Galleon Group co-founder Raj Rajaratnam's 2011 conviction and subsequent 11-year sentence was considered the "crown jewel" of Bharara's aggressive crackdown on insider trading, a strategy detailed at the time by New York's Robert Kolker:
[Bharara] doesn't grandstand or steamroll the way Giuliani or Spitzer did—in fact, he maintains an assiduously, perhaps even cannily, low profile—but he's by no means shy about pursuing his marks. To build his cases, he's used unusually aggressive investigative methods for white-­collar crimes, like wiretaps and search warrants.
But in the wake of the financial crisis — for which, you'll remember, no one was punished — those methods were questioned:
… hovering above all of this is the question of whether Bharara is fighting the right war. […] Bharara may be winning his share of insider-trading battles, but unlike Giuliani or Spitzer, he doesn't seem to be hauling in the biggest bad guys of his time. Whatever satisfaction comes from seeing Rajaratnam and company squirm, and possibly go to jail, there is still a sinking feeling that they're only the most expedient, not the biggest, targets. "Preet's smart," says one friend and fellow prosecutor. "White-collar cases are difficult. The one area where they're less difficult is insider-­trading cases."
Just not this time.