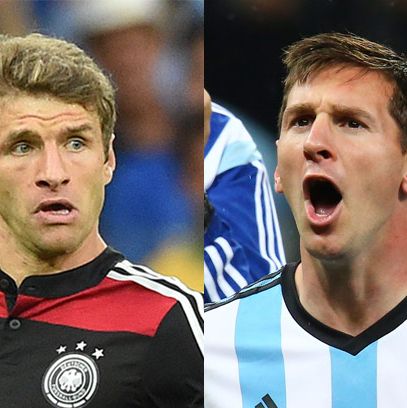 Thomas Muller and Lionel Messi.
Photo: Marcus Brandt/Corbis, Oraito/Corbis
The World Cup comes to an end this afternoon in Rio, when Germany and Argentina meet in the tournament's final. It's Germany's eighth appearance in the final (they've won three times), and it's the fifth time Argentina will play for the title (they've won twice). The game is sure to draw monster ratings, with both die-hard fans and casual observers tuning in. And so if you're the type who only watches soccer once every four years, here's a primer to get to ready for the big match.
How did these teams get here?
Germany went 2-0-1 in the group stage (the draw came against Ghana), then beat Algeria and France in the knockout round to advance to the semifinals. As you might have heard, they embarrassed Brazil (the favorite to win it all) in that game, defeating them 7–1, prompting a lot of sad Brazilian front pages. This goal by Sami Khedira made it 5–0: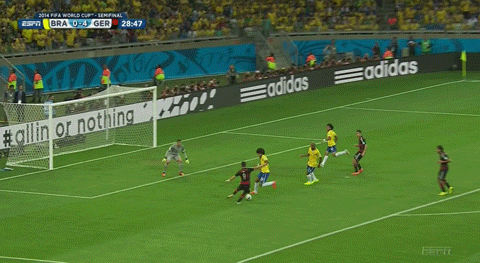 Argentina, meanwhile, has won all of its games, finishing the group stage 3-0-0 before beating Switzerland and Belgium to earn a berth in the semis. They needed a penalty shootout to get past the Netherlands in the game, after neither team scored in either 90 minutes of regulation or 30 minutes of extra time. Here's the Maxi Rodríguez shootout goal that sent Argentina to the final: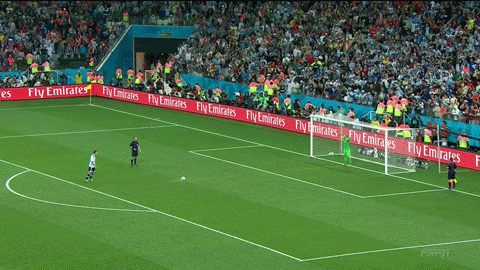 What do I need to know about Germany?
• They're an efficient, disciplined team that beats opponents by working as a unit. Their midfield is a major strength and a big reason they walloped Brazil in the semifinals, and Manuel Neuer is one of the best goalies in the world.
• They have the second-leading goal scorer in the entire tournament in Thomas Muller, whose five goals are behind only Colombia's James Rodriguez's. Those who jumped on the U.S. soccer bandwagon may recall Muller as the guy who scored for Germany in their 1–0 defeat of the Americans: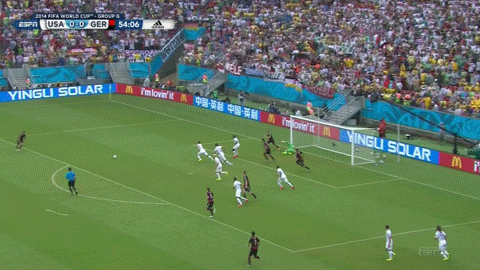 • Germany's roster also includes Miroslav Klose, the all-time leading goal scorer in World Cup history. His goal against Brazil in the semis was the 16th of his World Cup career.
• Jürgen Klinsmann, the coach of the U.S. team, is rooting pretty hard for Germany. The German-born Klinsmann both played for and coached the country in past World Cups, and with the Americans out, he's not hiding his rooting interests. These tweets are from Germany's semifinal win over Brazil:
What do I need to know about Argentina?
• Their best player is Lionel Messi, who may also be the best player in the world. He aggressively attacks defenders, and thanks to his sick ball control skills, creates opportunities to shoot and pass. He tallied 291 goals in 201 games for his club and national teams in between the 2010 and 2014 World Cups. (The only player who comes close to that figure is Portugal's Cristiano Ronaldo.) And he has four goals so far in the World Cup, tied for third most. Here's a taste of what he can do:
• Argentina, a team not necessarily known for its defense, has been incredibly tough to score on in the knockout round so far: They haven't allowed a goal in their last three games (not counting the penalty shootout, of course). Thanks to two games that have gone into extra time, that's 330 minutes of play in elimination games, against some of the best teams on the planet.
• Javier Mascherano — who stumbled to the field after knocking heads with an opponent against the Netherlands, and later revealed that he also "tore [his] anus" while trying to prevent an Arjen Robben goal in the same game — plans on playing in the final.
Where can I watch the game in New York?
Any German beer hall should offer a wild scene for supporters of Die Mannschaft (as the German team is called), though we can vouch for Zum Schneider on Avenue C, where a Daily Intelligencer photographer was on hand for the U.S.-Germany game in the group stage. Fans of Argentina can head to Chimichurri Grill, where they can consume copious amounts of beef while watching the match. Game time is 3 p.m.
Please tell me the current and former popes are betting on this match.
It's pretty unlikely, even though Pope Francis (from Argentina) and Benedict XVI (from Germany) are both fans of the sport. A Vatican spokesperson told the AP that the popes aren't even likely to meet to watch the game, though he says Francis (who has vowed to remain neutral during the tournament) "might watch it."
Alright, just tell me who's supposed to win.
Through the semifinal round, FiveThirtyEight put Germany's chances of winning the World Cup at 63 percent, and Argentina's at 37 percent. Germany is the favorite according to bookmakers too, even though no European country has ever won a World Cup played in the Americas.