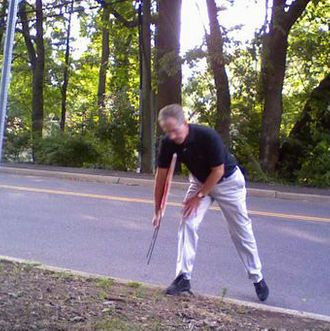 Just picking up the trash…
Photo: Ted Horodynsky/Times of Trenton
The academy is out of control in New Jersey. John Mulvey, an accomplished scholar in the field of financial algorithms, is facing charges of theft after 21 lawn signs advertising Princeton Computer Repairs, Tutoring and Digital Services disappeared from private property. The local company's owner, Ted Horodynsky, set up surveillance to get to the bottom of things and repeatedly spotted Mulvey, with whom he'd previously had a "traffic incident." It gets more like a Steve Carell movie from there.
The Times of Trenton reports on Mulvey's shaky defense:
"I think there was a mistake in the charges,'" Mulvey said in a telephone interview today. "I drive back and forth in that area and frequently stop to pick up debris in the roadway."

"Some people don't like the signs and they throw them in the woods," Mulvey said. "I make it my job to pick them up and keep them, so that's what happened."

Mulvey said he never took any of the signs out of the ground. "I have no reason to do that," he said. "I have nothing against signs or capitalism."
On the other hand, there are images of someone who appears to be Mulvey, appearing to pull the signs from the ground. On five separate occassions. And all 21 signs, valued at a total of $471, were found in Mulvey's garage.
He probably should have burned them, if only for the therapeutic part.