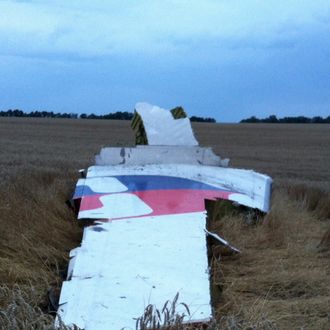 A picture taken on July 17, 2014 shows wreckages of the malaysian airliner carrying 295 people from Amsterdam to Kuala Lumpur after it crashed, in rebel-held east Ukraine. Pro-Russian rebels fighting central Kiev authorities claimed on Thursday that the Malaysian airline that crashed in Ukraine had been shot down by a Ukrainian jet.
Photo: Dominique Faget/AFP/Gety Images
Rebel leader Alexander Khodakovsky told Reuters that his men did, in fact, get a Buk missile system like the one that shot down MH17 via Luhansk, another breakaway territory near Donetsk. "The question is this: Ukraine received timely evidence that the volunteers have this technology, through the fault of Russia. It not only did nothing to protect security, but provoked the use of this type of weapon against a plane that was flying with peaceful civilians," Khodakovsky said. But, you know, Russia's involvement: still indirect.