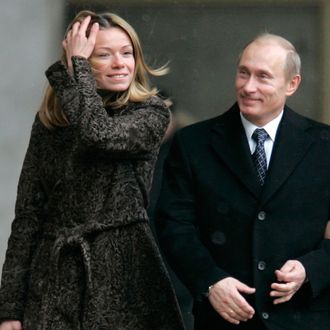 Photo: Ivan Sekretarev/AP
Though Vladimir Putin didn't personally launch the missile that brought down Malaysia Airlines Flight 17, western officials agree that he is, at the very least, partially to blame, since the Kremlin supported and likely armed the pro-Russian separatists who are believed to be directly responsible for the disaster. (Of course, both Russia and the rebels in Ukraine continue to deny that they had anything to do with it.) Anger over Putin's apparent role in the crash is particularly high in the Netherlands — 193 of whose citizens were aboard the doomed Boeing — which is why the Russian president's 29-year-old daughter, Maria, has reportedly fled her home outside of Amsterdam.
Putin has done a very good job of keeping even basic information about Maria and his other daughter, 28-year-old Ekaterina, under wraps. Still, the fact that Maria and her Dutch boyfriend, Jorrit Faasen, share a $3.3 million penthouse in the suburb of Voorschoten is something of an open secret. Earlier this week, the mayor of the nearby city of Hilversum, Pieter Broertjes, called for Maria to be deported from the Netherlands. Though Broertjes quickly apologized for his remarks, a number of Dutch people have expressed similar sentiments on social media. "Very convenient that Maria Putina lives so close to The Hague," wrote one Twitter user. "Won't have to go far to see her father's trial."
Based on what her neighbors told British tabloid The Mirror, Maria has gotten the message. "We have not seen her here since the plane went down," said one woman. "She moved in last year and it was all kept quiet for a while. But once it became known who she was, there was certainly some disquiet. And now this has happened. She is obviously not responsible for her father's actions but we don't want ­demonstrations around here." Unsurprisingly, no one seems to know where Maria has gone, but it seems safe to say that the world will not be hearing from her for a while.