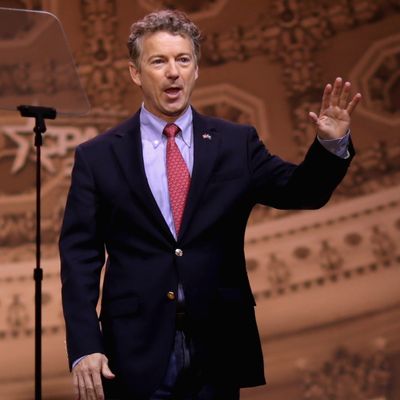 Have I told you how much I hate the Palestinians?
Photo: Chip Somodevilla/Getty Images
In theory, you might think that adding a dose of Rand Paul–style isolationism to standard Republican neoconservative militancy might result in a nourishing blend of a slightly more reflective brand of hawkish internationalism. In practice, it seems to have created an even more noxious brand of jingoism. Go ahead, read Paul's mindless op-ed for National Review online demanding a cutoff of all aid to the Palestinian Authority.
"Israel has shown remarkable restraint," Paul argues. "It possesses a military with clear superiority over that of its Palestinian neighbors, yet it does not respond to threat after threat, provocation after provocation, with the type of force that would decisively end their conflict." What kind of force would "decisively end their conflict"? Killing every single Palestinian man, woman, and child?
His op-ed proceeds to demand the cutoff of aid — which is opposed by AIPAC, for the obvious reason that it would create even more dysfunction and empower terrorists. Paul's bill does boast the support of the extreme right-wing group Zionist Organization of America.
Paul's gambit here is obviously to win over Republican hawks justifiably concerned he shares his father's kook foreign-policy ideology. His remedy is to embrace a different kind of kookery.