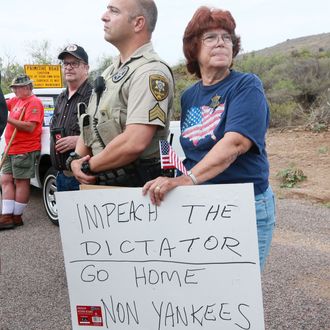 Photo: Sandy Huffaker/Getty Images
Inspired by the actions of flag-waving nativists in Murrieta, California, a group of protestors convened on small Oracle, Arizona, yesterday after hearing that a group of Central American children was on its way to a local youth academy. They were joined by Adam Kwasman, a state legislator who's running for the Republican nomination in Arizona's 1st Congressional District.
Before noon, the group of mostly old, mostly white protesters saw a school bus approaching. Kwasman tweeted (and has since deleted): "Bus coming in. This is not compassion. This is the abrogation of the rule of law." Then he went on-camera and told a local news station, "I was able to actually see some of the children on the buses, and the fear on their faces. This is not compassion."
Kwasman was very wrong. The bus wasn't full of frightened immigrant children, but local kids on their way to a YMCA camp.
A local news reporter said the kids on the bus were smiling and taking pictures with their phones, not tearfully recalling the circumstances of their broken lives.
"You know that was a bus with YMCA kids?" the reporter asked.
"They were sad, too!" said Kwasman, who then falls apart on camera.