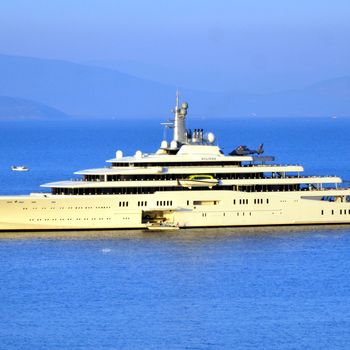 Basically Mother Teresa over here.
Photo: Ali Balli/Anadolu Agency/Getty Images
Pharmaceutical gazillionaire Dennis M. Jones "was struck by an intriguing coincidence" upon upgrading his 151-foot yacht to a 164-foot, custom-built yacht named the D'Natalin IV, the Times reports. That coincidence? That the D'Natalin IV's $34 million price tag was roughly equivalent to the $34 million he'd given to charity since 2000.
Which got him thinking: $34 million on curing disease and helping the homeless, $34 million on "high gloss raised panel walnut cabinetry and inlay stone floors" for a floating mansion. What's the difference, really?
No, really, that's the thought process that went through Jones's mind, according to the Times.
Could the purchase of a superyacht be more than an act of self-indulgence? Could it provide something as significant, Mr. Jones wondered, as the financial aid he has given to children, homeless people, drug addicts and groups that promote education and entrepreneurship?
The answer to all of those questions, of course, is "hell no, are you crazy?" (In fact, studies have shown the exact opposite — that high-end luxuries like yachts and sports cars actually perpetuate inequality.) But that didn't stop Jones from rationalizing his Scrooge McDuck lifestyle as an act of charity. He even called in the CEO of Christensen Yachts, which built the boat, to testify about how truly meaningful his order had been to the once-struggling company.

"It costs $170,000 a month in crew, insurance, moorage, fuel and the crew buying all their things for the boat," said the CEO. "It's a constant cash flow machine for the local economy whenever one of those things pulls in." A friend of Jones's added, "I'd call it 'fire hose economics' because the money left his account that fast." And Jones himself chimed in with some self-congratulations: "The [yacht-maker] is up and running better because of us."
"Mr. Jones said he wanted to encourage other wealthy people to think about how their opulent lifestyles could provide jobs just as their charity helps people in need," the Times said.
Truly, Jones should be cheered for his selfless act of buying a big-ass boat. Perhaps a Nobel Peace Prize is in order for Kim and Kanye's wedding, too?