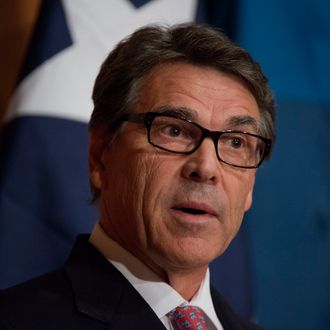 Rather than build a wall on the U.S.-Mexico border, Rick Perry is taking a shortcut and deploying some troops. The Texas governor is calling 1,000 National Guard troops to his state's border with Mexico in order to … Well, it's not exactly clear why. But with all of those unaccompanied minors pouring through, what's a governor to do?
Perry announced Monday that the extra manpower is needed to help deal with unprecedented traffic across the border. He worries that while border agents are busy providing humanitarian aid to disoriented and dehydrated migrants, the real bad guys are taking advantage of the open areas.
This show of force will cost Texas taxpayers about $12 million a month, but don't worry — Perry wants the federal government to reimburse him for his trouble. ("Texans are willing to put boots on the ground, but we expect Washington to foot the bill," State Attorney General Greg Abbott said.)
The saddest part of Perry's elaborate 2016 campaign scheme is that National Guard troops won't actually deter most of these migrants. (The National Guard troops already present at the border don't actually perform arrests.) Though Perry can insist that it is about the "visual," the only likely effect of this show of force — especially once people start realizing the troops aren't shooting at them — is that perhaps the migrants will be a little bit safer.
Indeed, the right-wing blogosphere is already out in force, accusing Perry of hiring very expensive private guides. "12 mil a month to post Guardsmen there, and all they'll be doing is tour guides?  My suggestion is that they hand them a map to California and send them there," wrote one under the pen name Mr Wolf.
Something tells us that this isn't quite how Rick Perry saw things panning out.