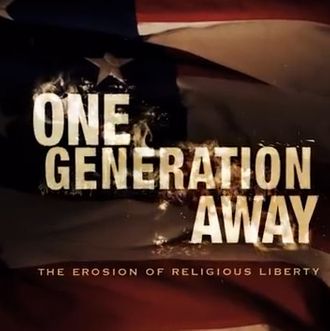 Rick Santorum has been in charge of Christian film company EchoLight Studios for about a year now, and after a handful of wholesome releases starring Corbin Bernsen, the former Pennsylvania senator is nearly ready to use his production company to swing an election. EchoLight said this week it will release its latest film, One Generation Away: The Erosion Of Religious Liberty, on September 1, just in time to rile up voters before November's midterm elections. It will first be released in churches before rolling out to theaters.
The film aims to "help Americans open their eyes to the reality that we are indeed closer than ever before to losing the religious freedoms that our ancestors so bravely fought to obtain," says EchoLight Studios President Jeff Sheets. It paints this scary picture by focusing on seven different cases in various stages of the U.S. courts, including the recently decided upon Hobby Lobby case.
Forget that the Supreme Court ruled in favor Hobby Lobby and the religious right. Having the Supreme Court on their side is not enough to convince EchoLight that religious freedom is safe. "One Generation Away is less about victories and defeats than about highlighting the ongoing tension and promoting dialogue and engagement on the issues," Sheets said in a statement to Politico.
As you'll see in the trailer below, it's also about calling liberals Nazis.