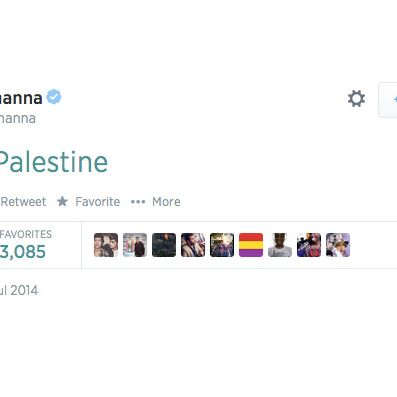 There can only be so much violence in the Middle East before famous people start weighing in on social media.
Rihanna, the Queen of Everything (including faux controversies), used what we can only imagine were finely manicured fingers to hashtag her way into the Israel-Palestine conflict this morning, only to then quickly delete the #FreePalestine message. But not before it racked up 7,000 retweets, because nothing she does on the internet can ever really be deleted.
("She deleted it because it was never meant to be tweeted," a "source" told TMZ. "She didn't even realize it was a tweet until she started hearing from her fans." They're not even trying with the hacker excuses anymore.)
But Rihanna was not the first. Generally unlikable NBA star Dwight Howard tweeted and deleted the same trendy hashtag over the weekend after a follower sent him photos of the destruction at the hands of Israel.
He promptly apologized, probably after someone explained to him that the entire situation cannot be accurately summed up in 140 characters:
On Monday, Knicks forward Amar'e Stoudemire posted a "Pray for Palestine" photo to Instagram. He, too, eventually took it down.

Moroccan rapper and minor Kardashian beau French Montana has stood by his bi-platform social media activism, but he doesn't have nearly as much to lose:
Waka Flocka Flame, meanwhile, hit the perfect balance for a celebrity: vaguely engaged but inoffensive.
Recommendation for Rihanna's next tweet: just the peace-sign emoji.