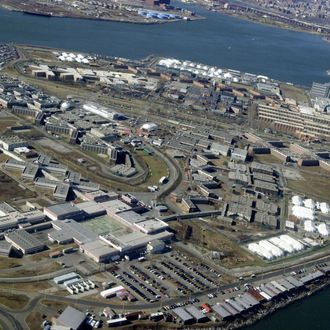 Photo: Todd Maisel/NY Daily News Archive/Getty Images
Another day, another problem with Rikers Island: The New York Times reports that two guards, 26-year-old Steven Dominguez and 30-year-old Infinite Divine Rahming, have been arrested and charged with repeatedly accepting money to smuggle drugs, including cocaine and oxycodone, to inmates inside the massive prison complex. (The two were originally arrested for cocaine possession in late June and have been in jail since.) Deleon Gift, who resigned from Rikers this spring, was also arrested and charged with taking $500 from an undercover officer to bring what he thought was oxycodone to a prisoner back in February.
As with Gift, Dominguez and Rahming's arrests were the result of a Department of Investigation–led sting operation, according to the Times. Over the course of four months, they met five times with investigators posing as friends and family of Rikers prisoners who paid them between $500 and $900 to act as couriers for the contraband. PIX 11 reports that Dominguez also offered to let someone he believed was a drug trafficker use his gun and badge, though it's not clear what he thought they were going to do with the accessories. 
A Rikers inmate named George Ramos and his girlfriend, Yasel Suarez, have also been charged with working with undercover officers to bring oxycodone into the complex. Meanwhile, the Times reports that the Department of Investigation has called for "disciplinary action" against three additional guards and a captain for participating in similar activities.
As the barrage of bad stories coming out of Rikers recently suggests, a number of city and federal agencies are currently working to improve the conditions at the increasingly violent and corrupt-looking institution.