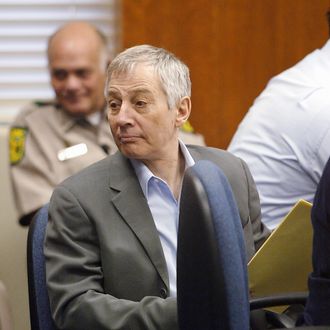 It's just one of those days for Durst.
Photo: James Nielsen/Getty Images
When we last checked in on Robert Durst, the millionaire NYC real-estate heir whose colorful past, immortalized in the Ryan Gosling film All Good Things, includes a trail of dead bodies and some women's clothing disguises, he'd moved back to the city to live next to a funeral home. These days, apparently, he's back in Texas (where he killed his 71-year-old neighbor and got off on self-defense) but just can't seem to stay out of trouble.
Sources tell Eyewitness News Durst was in the process of paying for a prescription on Sunday afternoon, when for reasons still unclear, he unzipped his pants and urinated on a cash register and a candy display at a drug store in the 6000 block of Kirby. He's been charged with a Class B misdemeanor.

We're told he was charged with "criminal mischief" late Monday afternoon by the Harris County District Attorney's Office.
The candy shelf, seriously? The man is a monster.