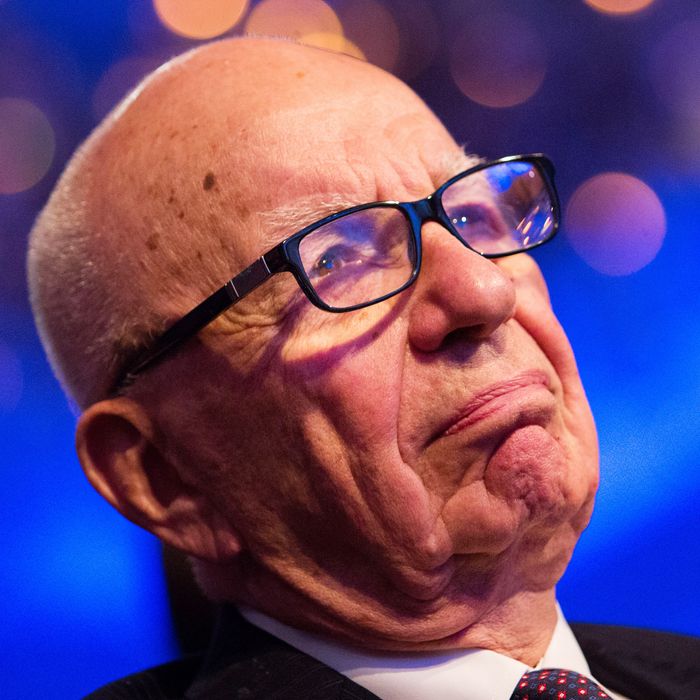 Photo: Drew Angerer-Pool/Getty Images
As if he doesn't lord over enough already, 21st Century Fox (and News Corp.) mogul Rupert Murdoch is interested in purchasing fellow conglomerate Time Warner in a Voltron-like merger that would form a megamedia company of colossal size and scope. The New York Times' DealBook reports that Murdoch and Co. recently made an $80 billion takeover bid and were rejected, but do not plan on giving up that easily.
"21st Century Fox can confirm that we made a formal proposal to Time Warner last month to combine the two companies," Murdoch's entertainment wing said in a statement. "The Time Warner Board of Directors declined to pursue our proposal. We are not currently in any discussions with Time Warner."
But DealBook adds, according to "people involved in the discussions," that Murdoch "is determined to buy Time Warner and is unlikely to walk away." (Murdoch has suggestively eyed the Warner half of Time Warner before, in 1984, when he used reporters from his New York Post to try to dig up dirt on the then-chairman and CEO of Warner in hopes of deposing him.)
News of this latest offer, which included $85 in stock and cash for each share of Time Warner, could reignite negotiations once shareholders start salivating: "About 70 percent of Time Warner shareholders, including many big mutual funds, also own shares in 21st Century Fox," DealBook reports, and a combo company would have revenue of around $65 billion. (Time Warner stock is way up this morning, thanks to the news.)
It would also put many of the world's top cable/broadcast/film/etc. companies under one umbrella. In addition to the obvious — Fox, Fox News, FX, Fox Business, Fox Sports — the bursting portfolio would include the following brands and their subsidiaries (plus much, much more, as compiled by The Huffington Post earlier this month):
HBO
TBS
TNT
TCM
Adult Swim
Cartoon Network
TheSmokingGun.com
truTV
Turner Sports
YES Network
Warner Bros. Pictures
New Line Cinema
The CW
DC Entertainment
HarperCollins
National Geographic Channel
Sky
Cinemax
Then there are the previously spun-off Murdoch newspapers (The Sun, The Times, The Sunday Times, The Wall Street Journal, the New York Post, The Australian, The Daily Telegraph, The Sunday Telegraph, The Herald-Sun, The Courier Mail, The Sunday Mail, The Advertiser, NT News, The Sunday Territorian, The Sunday Times, The Sunday Tasmanian …) and Australian networks among the News Corp. half of things.
Left out in the cold would be CNN, which DealBook reports would be sold to avoid antitrust issues, and because Fox News' success more or less makes it irrelevant. CBS and ABC could be left to pick up the scraps.
When Time Warner CEO Jeff Bewkes was asked about a potential deal with Fox or even Google at the Sun Valley conference last week, he told Variety, "I know nothing about it." It was coy, but now everyone knows a lot about it. And, as DealBook points out, Murdoch, who is perhaps in his deal-making twilight, has a history of getting what he wants — "pursuing bold deals that were often rebuffed at first by the targets of his overtures, only to later acquiesce." This thing is not over.