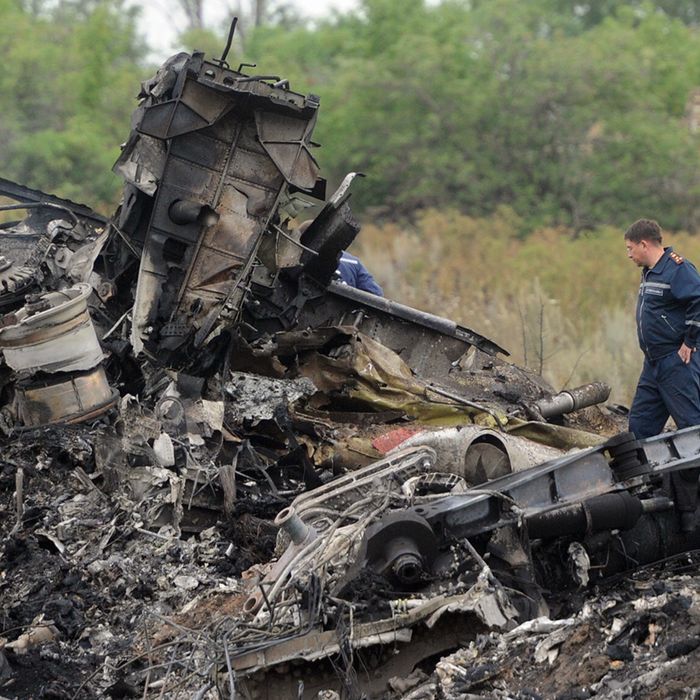 Photo: Domnique Faget/AFP/Getty Images
In its latest chess move, Russia is reportedly refusing to touch the "black boxes" of Malaysia Airlines Flight 17, which was downed yesterday, likely by pro-Russia rebels, over Donetsk, Ukraine.
According to Foreign Minister Sergei Lavrov, the country wants the boxes to land in the hands of international experts. "Contrary to what is heard from Kiev, we are not planning on taking these boxes, we are not planning on violating the norms that exists for these incidents within the international community," he said.
According to Lavrov, the crash is first and foremost the concern of Malaysia, Ukraine, the Netherlands, and the other countries whose citizens perished aboard the flight. Even though Russia invaded its neighbor's southeastern regions and annexed a chunk of prime real estate, its hands are squeaky-clean.
Never mind the fact that audio released last night by Ukrainian officials seems to show separatist rebels — you know, the ones whose movement the invasion of Crimea really energized — communicating with Russian officers as they realize that they have shot down a passenger plane. The conversation basically amounts to, "Oh shit. Civilians, no weapons." (It's worth remembering that this is not just an ad hoc group of disgruntled unemployed guys — they've been downing Ukrainian military planes successfully for quite a while.)
This is the latest turn in a tragically unfolding saga where all sides seem more interested in pushing blame than figuring out what happened. According to the latest reports, flight MH17 was flying at a suboptimal height, apparently at the request of Ukrainian air traffic control. Russia in particular seems intent on using the incident to rehabilitate its international reputation: We're definitely not taking the boxes, our condolences to everyone, and stop looking at us — this happened in Ukrainian airspace.
"This was a global tragedy," said President Obama at a news conference this morning. "An Asian airliner was destroyed in European skies filled with citizens from many countries," he said, calling for an immediate cease-fire in Ukraine. "There has to be a credible international investigation into what happened," Obama said. "Evidence must not be tampered with," but "there will likely be misinformation," he warned.
Yesterday, an anonymous source even suggested that there's no possible way Russia could have been involved in the crash — the target was likely Vladimir Putin's own plane. Today, Oleg Tsaryov, a politician in the self-proclaimed Novorossiya (literally, New Russia), disputed the authenticity of the phone recording released by Ukraine. According to him, if real, the call was addressing a military plane that had been shot down earlier that day. Now Putin is calling for a laying down of arms in favor of investigating the crash — and, presumably, forgetting about the self-proclaimed Novorossiya and that whole annexation of Crimea bit.
Still, Putin's efforts may be coming too little too late. As The New Republic's Julia Ioffe points out, Russia's pretty much the only place rebels can get the sophisticated weaponry needed to shoot down planes, military or civilian. Evidence is mounting that it was not merely an accident — Ukraine has released more recordings implicating Russia in providing missiles to the rebels, and U.N. ambassador Samantha Power cited "credible evidence" that the plane was targeted using a Russian-built system. Shooting down military planes is bad, but a civilian airliner may just be enough to jolt the conversation and require Putin to ditch the younger brothers in New Russia.
And of course, it's still not clear whether the boxes that may hold the key to figuring out what happened have actually been found. Instead, Ukrainian officials say that rescuers are "working under the control of terrorists" — presumably the same guys who may or may not have taken the plane down in the first place.