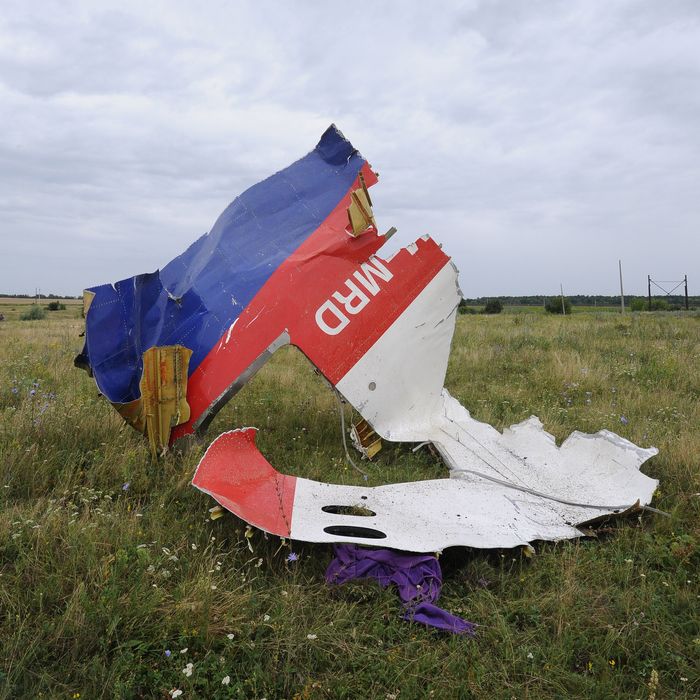 Photo: DOMINIQUE FAGET/AFP/Getty Images
The investigation into what downed Malaysia Airlines Flight 17 finally took a step forward on Monday, as refrigerated trains holding the bodies of the 298 victims began moving out of rebel-held territory in Ukraine, and the pro-Russian separatists turned over the plane's black boxes to Malaysia. While independent investigators are just beginning to look at the evidence, or what's left of it, Russia laid out two detailed theories on what took down MH17. Unsurprisingly, they both contradict Western accusations that separatists accidentally took down a civilian jet with a Russia-supplied weapon. Instead, Russian air force chief Lt. Gen. Igor Makushev suggested that the plane was shot out of the sky by the Ukrainians, using either missile systems or a fighter plane.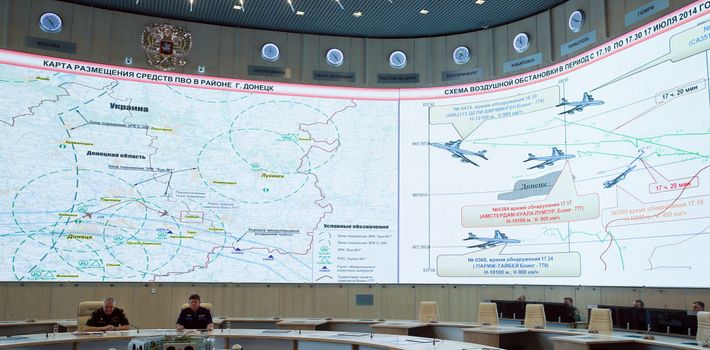 According to The Wall Street Journal, Makushev said at a press conference that Russian radar spotted another aircraft near the jet just before the crash, and it was probably a Ukrainian fighter jet. He also presented several satellite images that he said showed Ukraine moving missile systems into the region before the plane fell from the sky. At a meeting of the United Nations Security Council on Monday, Russian ambassador Vitaly Churkin said Ukraine needs to explain why an antiaircraft missile battery near the crash site was "hastily removed," and accused Ukraine of doctoring recorded conversations between separatist commanders said to be discussing the crash.
Ukraine said Russia's claims can't be true, as its fighter jets were on the ground during the crash and its Buk ground-to-air missile systems were out of range. The United States backed up Ukraine, saying its fighters can't reach the altitude where the jet was cruising, and intelligence analysts have verified the audio recordings.
Unfortunately for Russia, the scant evidence available doesn't appear to support its fighter-jet theory. Photographs of wreckage riddled with holes have begun surfacing on social media, and experts say that suggests the plane was targeted by a missile that exploded nearby. After analyzing photos taken by New York Times reporters, IHS Jane's, a defense consultancy, concluded that the damage was consistent with that caused by a Buk system. The missiles are designed to explode below a target, increasing the likelihood that a fast-moving Western military aircraft will be damaged even if it avoids a direct hit. 
Investigators still can't say definitively who was operating the Buk, which may be exactly why the Ukrainian rebels were so slow to turn over the evidence. Michael Bociurkiw, a spokesman for the Organization for Security and Cooperation in Europe, suggested that some of the contamination of the crash site wasn't accidental. He said a large cone section of the debris "had somewhat been split or moved apart," adding, "we observed workers there hacking into the fuselage with gas-powered equipment."
It's also possible that the separatists didn't intend to destroy evidence, they just weren't equipped to handle the crisis. "It's really a mess," said Andrew Weiss, a Russia expert from the Carnegie Endowment for International Peace. "The question is: Does that mess have some political benefits for Russia?"