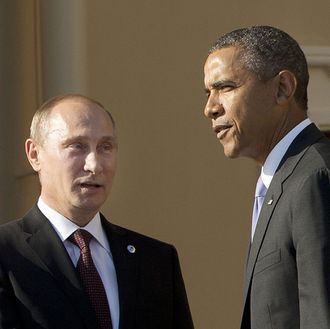 Photo: Pablo Martinez Monsivais/AFP/Getty Images
Remember that limited skirmish in Eastern Europe? The one in Ukraine that was all the rage on international news pages a few months ago? It's still going on and yesterday the United States made its most serious attempt yet to get Russia to stop supporting separatists fighting in the country.
President Obama announced a series of sanctions targeting major energy, financial, and defense companies, including Rosneft, Russia's largest oil producer, and the company that makes Kalashnikovs. Obama said the sanctions should hit Russia where it hurts, and based on the reaction from the Russian foreign ministry and Vladimir Putin, he's right. In a statement, the foreign ministry accused Obama of "bullying" while the Russian president said the sanctions would drive the relationship between the U.S and Russia "into a corner" — and not the kind of corner where you make out.