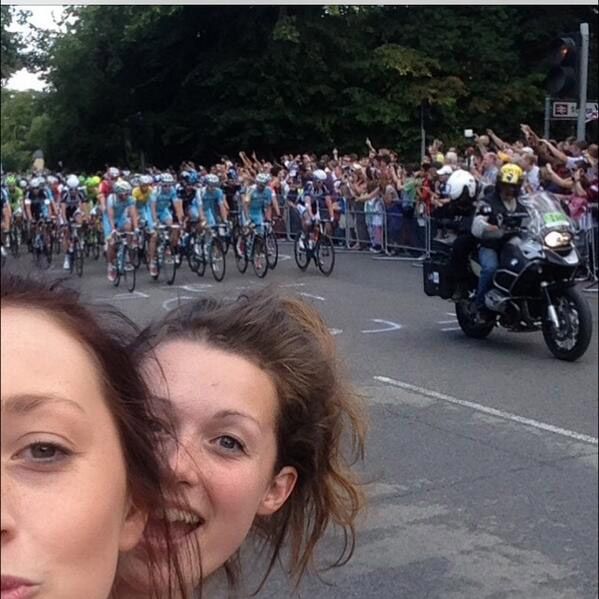 Photo: LucyJoJames/Twitter
Being a spectator at the Tour de France means waiting for hours (and drinking for hours, let's be honest) by the side of the road for maybe a minute of action. So when a pack of 200 dudes on bikes is bearing down at 25mph, it seems only natural to jump in the road, turn your back to them, and take a selfie!
The crowds in Yorkshire, England, where this 101st Tour de France spent its first three days, reached an astounding 4 million (it's only the second time the Tour has come to England), which meant an astounding number of riders going down in crashes from knocking into fans, or knocking into other riders while avoiding fans (with rain and cobblestones also creating their fair share of crashes). At the end of today's Stage 5, back in France, we've already lost last year's champ, Britain's Chris Froome, who crashed three times in 24 hours; sprinter extraordinaire, Mark Cavendish, also British, who dislocated his collarbone at the end of Stage 1 and had to abandon the race; and 2010 winner Andy Schleck from Luxembourg, who's undergoing surgery today for knee injuries that may end his career, after a crash caused by a spectator in the road taking a photo.
But wait! There's more! Marcus Kittel, the German sprinting god, won three stages only to crash hard today, while 25-year-old American hope Tejay Van Garderen (who won the best young rider competition and came in fifth overall last year) was lucky to come away with only minor knee injuries after crashing into a selfie-taking fan in Stage 2. He sent out some angry tweets decrying the "dangerous mix of vanity and stupidity." Vive le Tour!
Here are some crash-heavy highlights:
Stage 1:
Cavendish, one of the top sprinters in the world, tried to go extra-hard on this one since the stage ended in Harrengate, his mother's hometown. Near the finish, he crashed into Australian Simon Gerrans. German sprinter Kittel won and took the yellow jersey. Cavendish underwent shoulder surgery today.
Cavendish crash.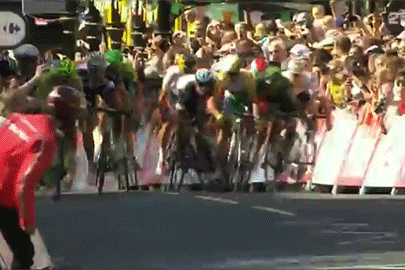 And him writhing in agony afterward.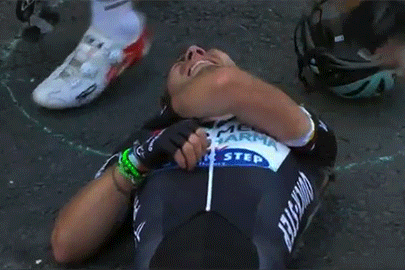 Stage 2:
A fan got knocked to the ground.
Van Garderen took a tumble after a fan in the road taking a selfie caused a pileup. The American rider then posted a series of angry tweets.
Italian Vincenzo Nibali, a possible contender for the overall title, took the yellow jersey after he managed to ride over his teammate who crashed in front of him, and stayed upright.

Stage 3:

Team Sky's David Lopez clipped a fan who stepped onto the road to snap a picture.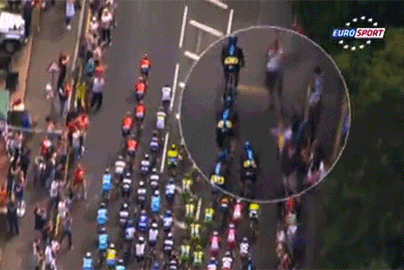 This a chain reaction that took down Lopez's teammate Schleck.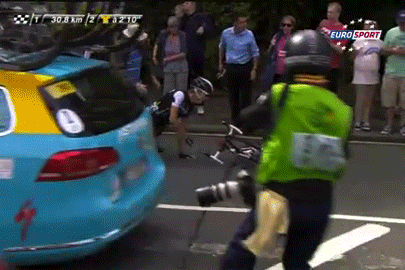 Schleck, who was already a shadow of his former self, following two crashes in races earlier this year and a really tough crash in 2012 in which he fractured his sacrum, underwent knee surgery today. He'd partially ruptured his collateral and cruciate ligaments, torn his meniscus, and damaged the cartilage. Marcel Kittel won his second stage of the Tour.

On a happy note, check out this guy riding a horse next to the Peloton.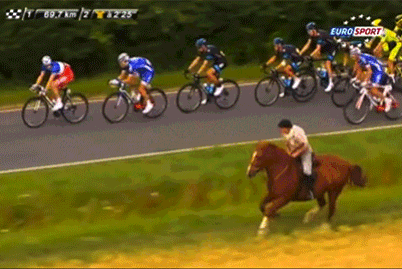 Stage 4:
On the first stage in France, defending champ Froome, crashed one kilometer in.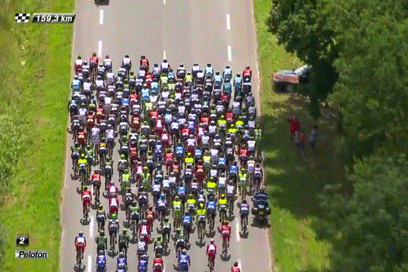 A doctor in a moving car addressed his road rash, clearly visible through the left side of his shorts, which were completely shredded. Froome also complained of wrist pain but just toughed it out.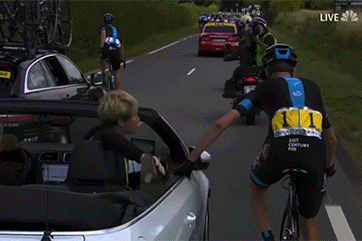 Kittel again won the stage.

Stage 5:

Crashapalooza! Riders had been dreading and preparing for this stage for a year; it has nine stretches of cobblestone road. When it became clear that it would rain all day, Tour organizers removed the two most dangerous stretches of cobblestone, leaving seven sections totaling eight miles, plus lots of roads with roundabouts and slippery surfaces.

Kittel, with three stage victories under his belt, went down hard.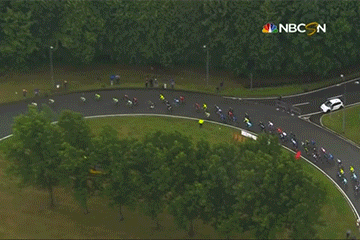 A roundabout claimed some other riders.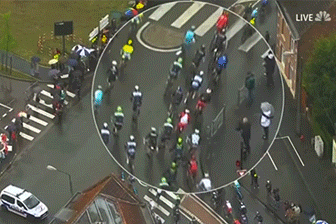 Then Froome bit it twice, making it three crashes in 24 hours. He'd already been wearing a splint on his left wrist from his Stage 4 crash. Then in his final crash today, he landed on his right side, again tearing up his shorts, and finally had to abandon the Tour. That'll teach the British to play host to the event!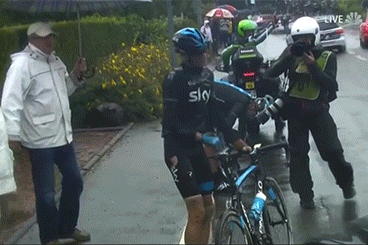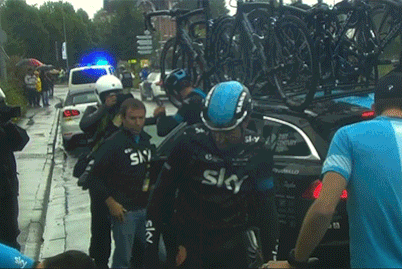 This guy knocked an old man into a ditch.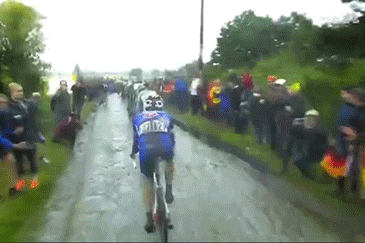 And Sep Vanmarcke from Belgium's Lotto-Belkin team did a pretty awesome front-flip crash off the cobblestones.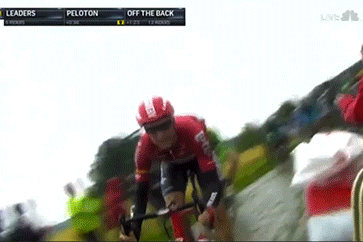 In the race at large, former champ Alberto Contador lost two and half minutes on the cobblestones to race leader Vincenzo Nabali; Contador was trying not to crash, he said, and his derailleur was so caked with mud he couldn't change gears. Spain's other contender, Alejandro Valverde, finished a few seconds ahead of Contador, but crashed and had to use a teammate's bike to finish the race. Dutchman Lars Boom of Lotto-Belkin won the stage in a breakaway, helped by none other than the resilient Sep Vandermarcke of front-flip fame. 
Tomorrow, a ride through the battlefields of WWI, to honor the war's centenary. And … more crashes, probably.