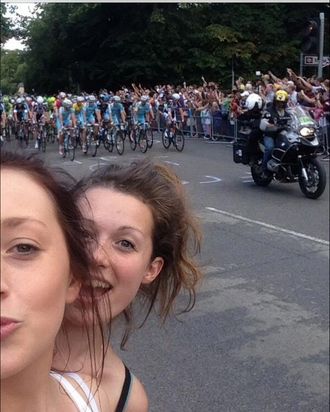 Photo: LucyJoJames/Twitter
Blame Ellen.
Spectators stepping into the road to snap an awkward photo of themselves in front of the pack are the "latest pain in the ass," according to one rider. "The worst thing is when people have got their back to the peloton taking selfies," said Team Sky's Geraint Thomas of this year's race, which started Saturday. "There were a few. They don't see us coming, they're stood in the road and it's dodgy. If you want to do that, stand on a wall or something."
"They were just stood in the gutter," he continued of the oblivious fans, whose support he, of course, loves and appreciates, in case the sponsors are getting the wrong idea. Still, "They don't realize we use every part of the road. They are a lot of us and we use every inch. If you're on the front [of the pack] you can see them but if you're two back you nearly hit them."
"I think people need to realize we take up the whole road," said Thomas. "If you want to go and do that go and sit in a tree."
American rider Tejay van Garderen concurred, after an injury:
Those responsible range in age from teens to grown-ass adults, spanning sex, phone type, and selfie skill level:
Suspects should be considered armed and dangerous, plus unrepentant and in desperate need of more "likes." This is only the beginning.